IdeaScale is Improved...Again
Launch, learn, optimize, rinse, repeat, this is what we do, and boy did our product team serve up a juicy update for you. I mean, Dark Mode alone could have been enough, but we piled on Image Resizing, Rich-Text editing and whole lot more.
The launch of our new interface late last year has allowed us to expand our capabilities considerably, so we'll be rolling out instant classics throughout the year. But let's not get ahead of ourselves before diving into this release, the details of which are below:

But first a public service announcement from our product team...
As always, your feedback fuels our direction; please let us know what you think.
Dark Mode
The new Batman movie got us all fired up, or maybe our bright computer monitors kept us up all night to get this build complete. Either way, we are excited to introduce Dark Mode! Dark Mode is a design scheme that turns light elements of the design dark and vice versa. Now members can choose their view, whether it be light or dark.


Why is this important?
Dark Mode helps with some energy saving on monitors and phone screens, thus conserving battery power. It also helps reduce eye strain and readability. Maybe most importantly, many users LOVE dark mode, so we had to give the people what they love.
How does it work?
Users can toggle their view from light to dark under their profile dropdown, and their community's look will adjust accordingly. Many browsers (and operating systems) will automatically change the theme from light to dark mode depending on the time of day, and IdeaScale will follow those preferences as well.

What does it look like?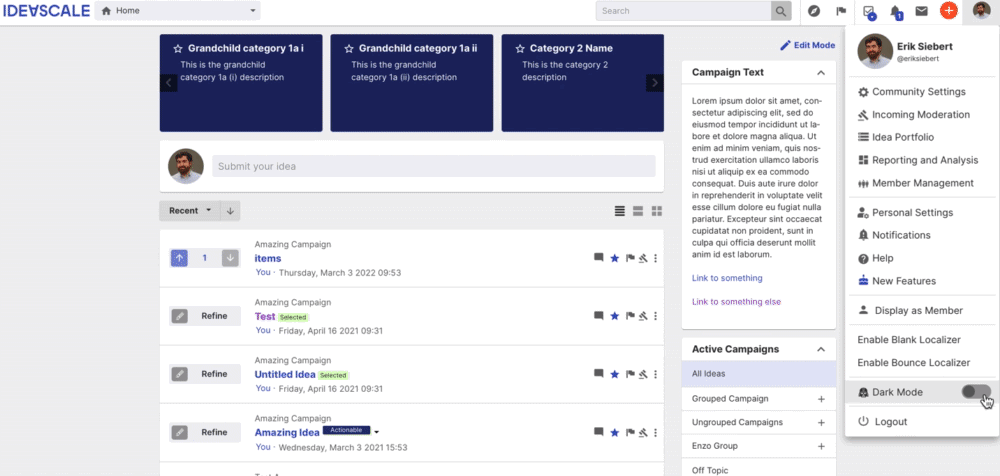 What do I need to do to make this work in my community today/when it is released?
This feature is available now. There is no community-level switch to enable. Simply toggle from the personal dropdown (under your avatar) to see Dark Mode/Light Mode in action.
More Info: https://support.ideascale.com/en/articles/6061208-dark-mode
Rich-Text Editing
You requested, and kept requesting, so we got to work and are now excited to announce your full Rich-Text Editor is live (nice teamwork us). We have added this new Rich-Text Editor in a number of places, including:
Idea Description

Comments

Campaign Brief

Campaign Description

Sidebar: Custom

Profile: Bio

Custom Fields: Large Text Description

Private Messaging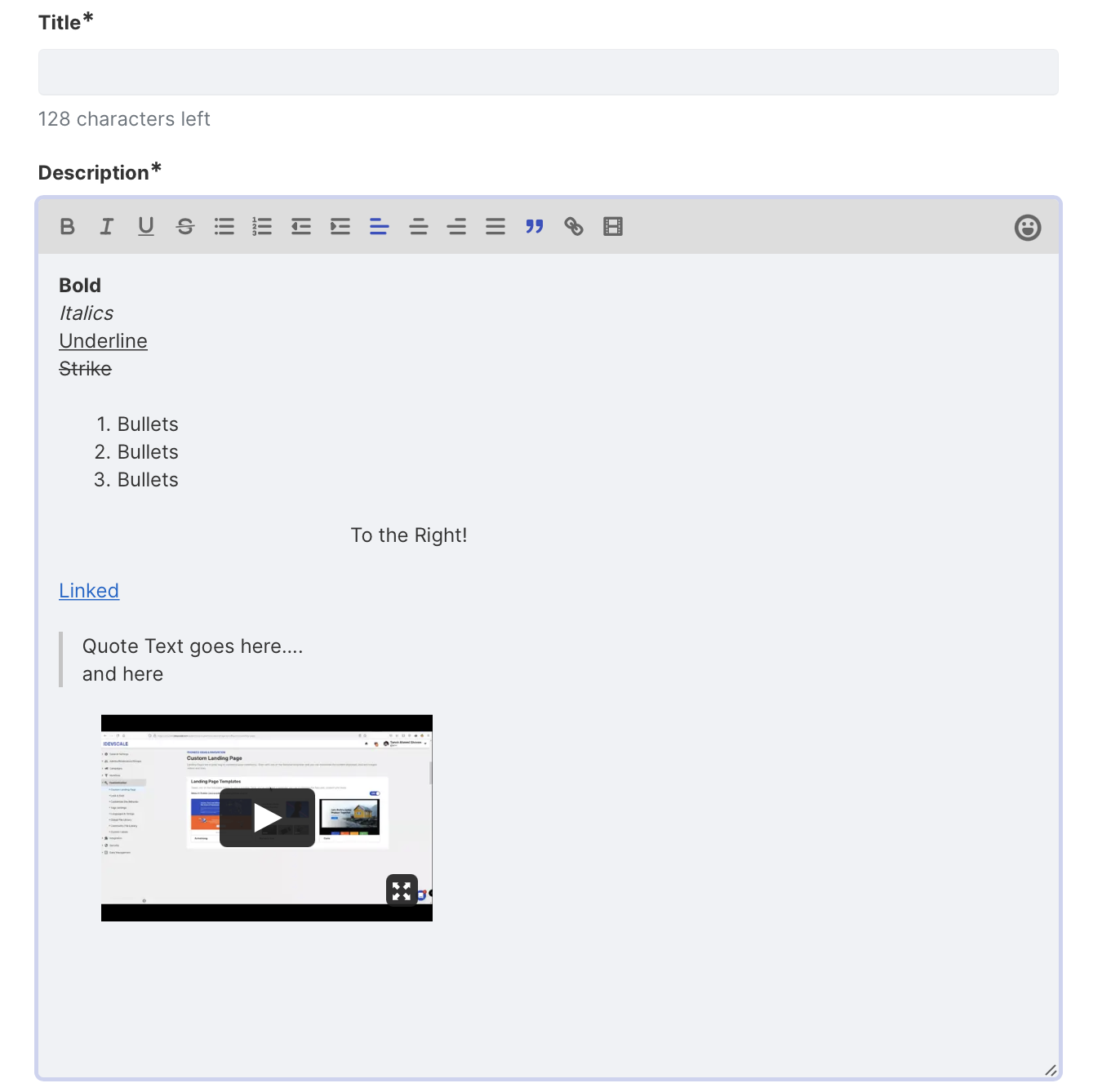 By adding an editor, content can be customized to:
Bold

Italics

Strikethrough

Indent

Bullets

Justification

Links

Video (more below)
Why is this important?
Members are now more empowered to customize their content to drive attention, express their thoughts and simply better communicate. Administrators will also have way more flexibility to configure their campaign pages and other content.
How does it work?
Simply highlight the text you would like to customize, and select the treatment.
What do I need to do to make this work in my community today/when it is released?
This feature is available in all areas (except Campaign Description and Brief) listed above. Nothing to configure. We're expecting to add Campaign Description and Brief later this month.
More info: Rich Text-editor
Video Embed Enhancement
As part of the Rich-Text Editor, we are allowing more video formats to be embedded. Video platforms supported include: YouTube, Vimeo, Brightcove, Vidyard, Kaltura, Qumo, and more.

How does it work?
Simply copy and paste a link from any of the above video platforms and your video will be displayed in-line. This works within an Idea Description, a Comment, or when building campaigns in the Campaign Description or Campaign Brief.

What does it look like?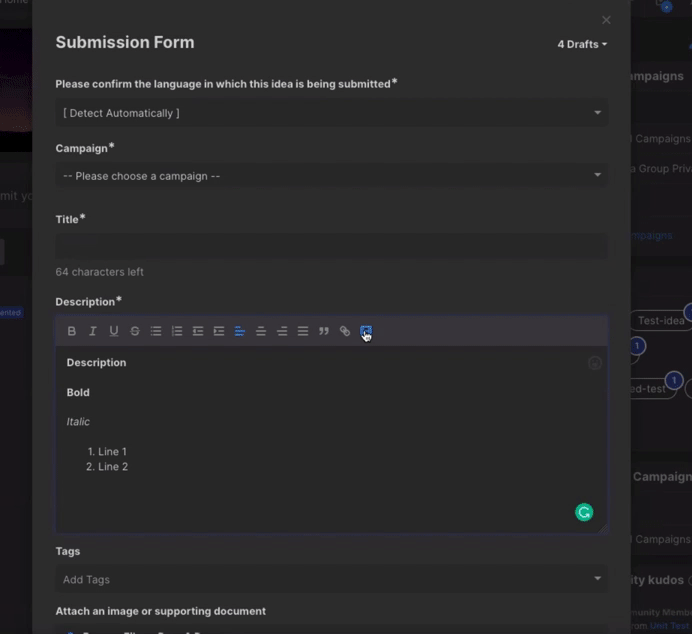 What do I need to do to make this work in my community today/when it is released?
Nothing to configure, this feature is available now.
Original Idea in Ideas.IdeaScale: https://ideas.ideascale.com/c/idea/64036
Multiple Custom Admin Roles
Custom Admins allow Community Owners to delegate different administrators to oversee different areas of the community settings. This will allow Community Owners to allow one group of Administrators to set up Single Sign-On, another group of Administrators to run reports and a third group of Administrators to only oversee Emails and Notifications.
Why is this important?
This is important security feature for enterprise clients that want to limit opening up all areas of the platform to all Administrators.

What does it look like?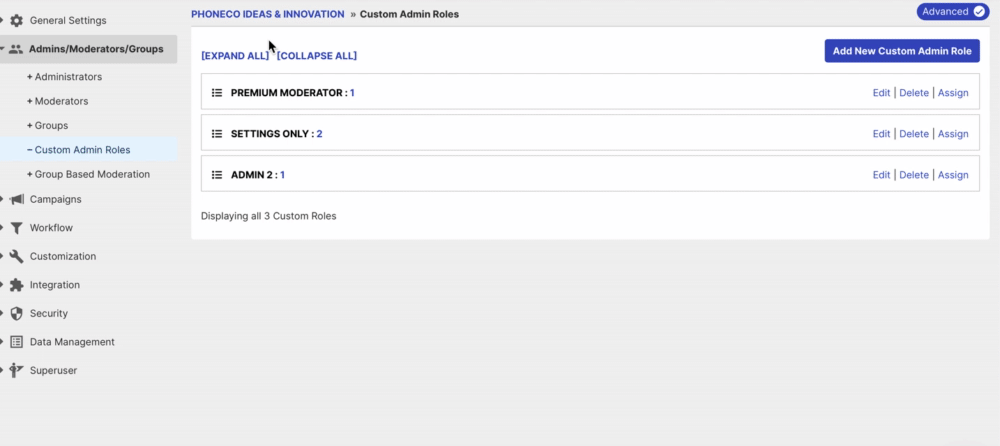 What do I need to do to make this work in my community today/when it is released?
This feature is available now. Head over to Community Settings>Admins, Mods & Groups>Custom Admin Roles to add additional administrative roles.
Image Resizing
Another nice convenience we've added as part of Lucido is image resizing. No more uploading images with exact pixel sizes, you can now edit images in-line. You'll find this in all areas images are uploaded to IdeaScale. You'll find this tool in any area of IdeaScale that requires a specific size (Profile Icon, Campaign Banners, Logos, etc.).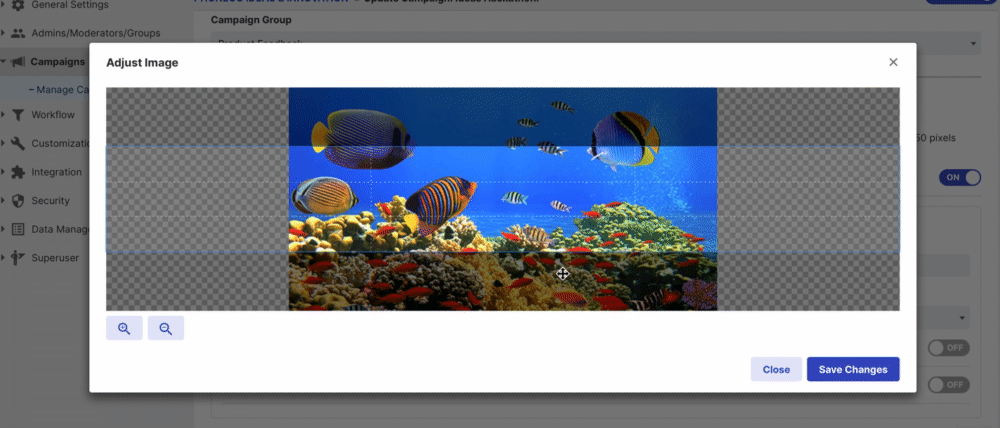 More info: Image Resizer
Original idea in Ideas.IdeaScale: https://ideas.ideascale.com/c/idea/73772
Also available: Moderator Digest to Notifications
We're now offering the Moderator Digest as an in-app notification. Track your campaigns' performance over the course of the month (or week). You can also share your performance with others in your community.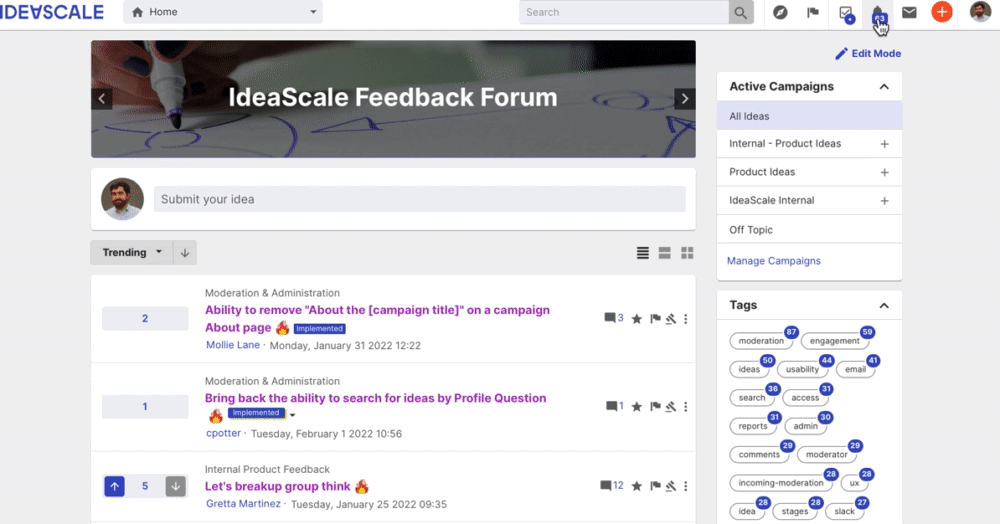 More info: Moderator Campaign Digest emails
Also available: Audit Log API
For the security-minded clients, we're now offering the audit log -- i.e. the list of changes administrators have made -- as an API. This will allow you to track all API changes via a single source. Some clients are using this API in conjunction with Splunk.
More info: Authentication Audit Log Export
Coming Soon: Landing Page Updates
We've got a big change in store for Landing Pages. We'll be offering a full self-serve landing page editor. More to come on this...
Did this answer your question?