IdeaScale provides a host of techniques to prevent your community members from ballot box stuffing, SPAMMING, or abusing your community. The three main areas that we focus on are, fake registration of accounts, off-topic posts, and inappropriate language.
Registrations via work email address
We do not accept registrations via personal email domains like Gmail, Yahoo, or public emails like Mailinator. A user trying to register with such email domains will get an alert message asking to use only work/organizational email addresses.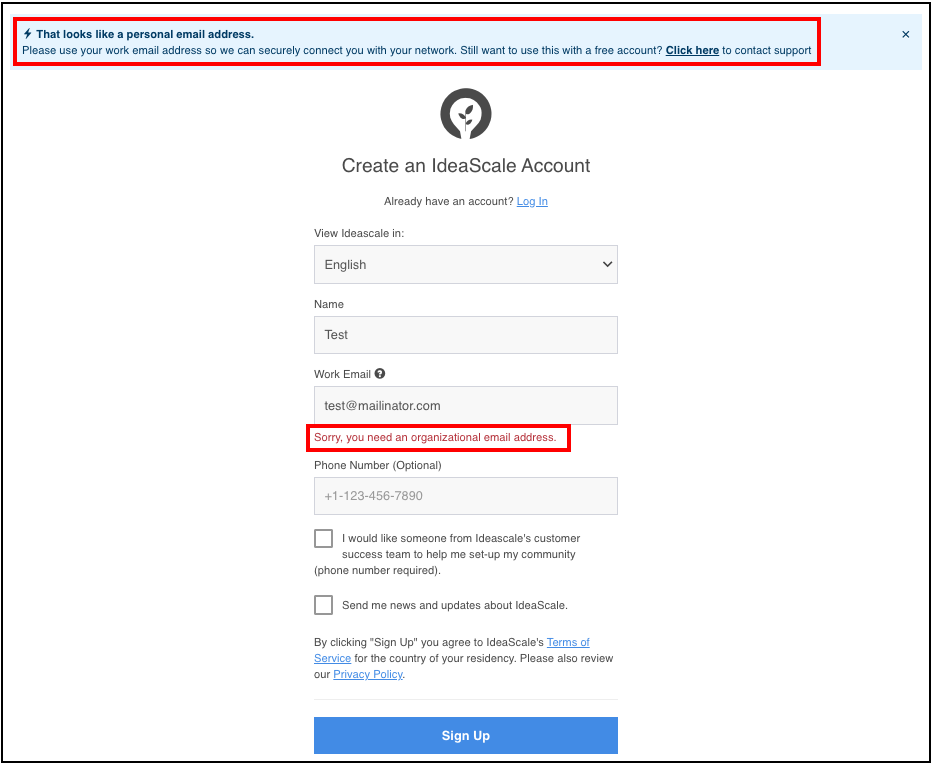 Double Opt-In Email Verification
To prevent users from signing up for your community with a fake email address, and thus creating additional fake votes, each user is required to provide their email address. An email message is then sent to the user with a verification link and verification code in the message. When the user clicks on this link, he is asked to add the received code and IdeaScale is then able to verify ownership of the account.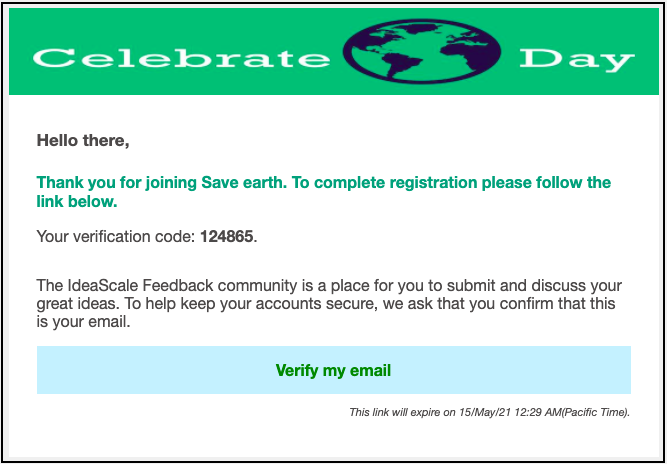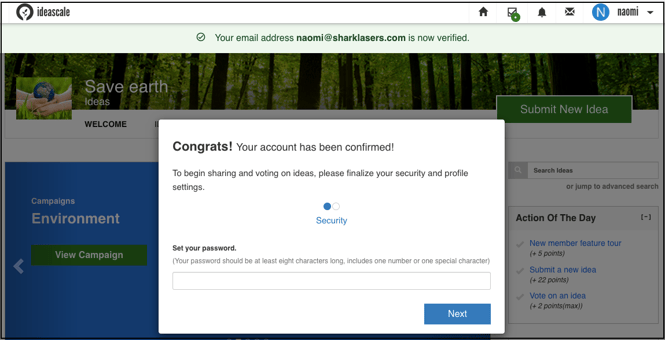 Social login
Users can completely skip creating a new IdeaScale account by simply logging in with an existing identity provider such as Facebook, Twitter, Google/Gmail, LinkedIn, Reddit, etc.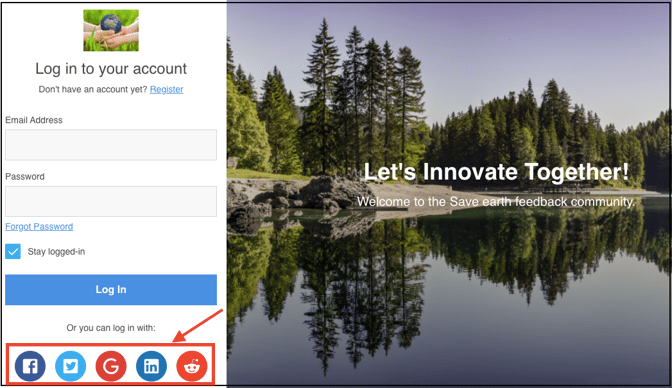 Email Based Access Restrictions
A very simple and elegant way to limit user registrations to your own organization can be accomplished via email-based access restrictions. Basically, you can configure your IdeaScale community to only allow registration if the user signs up with the email address domain for your organization (ex, xyzcompany.com).
More information on email-based access restrictions here: https://help.ideascale.com/knowledge/email-domain-based-access-control
Poor Quality Posts, Off-Topic Posts
Off Topic Moderation
Completely off-topic ideas in your community can cause a myriad of problems. Not only does it set a poor precedent, but it can severely lower the overall quality of ideas from other members of your community. The IdeaScale off-topic tool gives your moderators the option to move certain ideas to a different area of the site, out of the main list of ideas. Community members can still vote/comment on the idea and link to the idea, but it won't be in the overall list of top-voted ideas.
More information on off-topic moderation can be found here: https://help.ideascale.com/knowledge/moderation-off-topic-posts
Moderation of New Idea Submissions
Another simple method for preventing inappropriate comments/ideas is to configure your community for completely manual moderation of new posts. In this mode, new ideas or comments that are posted in the site will be placed into a queue for approval by your team of moderators.
More information on idea moderation can be found here:
https://help.ideascale.com/knowledge/approvals-required
Flag for Moderation
You can also leverage the crowd within your community by giving them the ability to flag ideas/comments as inappropriate or duplicates. When an idea or comment is flagged, it is placed into a moderation queue for your moderation team to review.
Learn more about flagging for moderation here: check under the subheading "Abuse Threshold"
Learn more : https://help.ideascale.com/knowledge/automation-builder
Inappropriate Language
Curse Filtering
Ideascale can be configured to prevent a community member from submitting text with curse words. When enabled, the seven most common words are filtered from submission. Additional inappropriate words or inappropriate emojicon can be added by the administrator of the community. A comment or idea posted with these words/emojis will be placed in the moderation queue to be reviewed by a moderator.
Learn more about curse filtering here:
https://help.ideascale.com/knowledge/curse-filtering