Path: Community Settings >> General Settings >> Subscription Dashboard
The Subscription dashboard contains details about the account subscription, Communities created under the subscription, access to Account manager email, seats occupied in the communities as well as Total REST API calls used. It is a Read-Only dashboard.
Current Subscription
The Current Subscription shows the subscription which the community's account currently has, like Free, Evaluation, Enterprise etc. It also shows the subscription expiration date.

Questions and Inquiries
Admins can easily contact their Account Managers via email or Email/Call Accounts team from this section for any subscription or account-related queries.

Your Communities
This section shows the number of communities created along with the number of communities allowed under the current subscription.

There is also a button to upgrade the current subscription. Clicking on it will take the community owner to the Upgrade Plan section to choose the new subscription.
Seats Used
This section shows the list of seats being used in the community along with the total number of seats allowed. One seat counts as one individual (assigned by name/email address) that is assigned as:
Global Administrator
Admin Group
Campaign group administrator
Campaign Administrator
Global Moderator
Group Moderator
Campaign Moderator
Custom Field Moderator
Translation Moderator
Custom Admins
An individual can hold multiple roles mentioned above and it will count as one seat taken. If the administrator removes the individual from all these roles, his/her seat will free up to be used for adding another individual.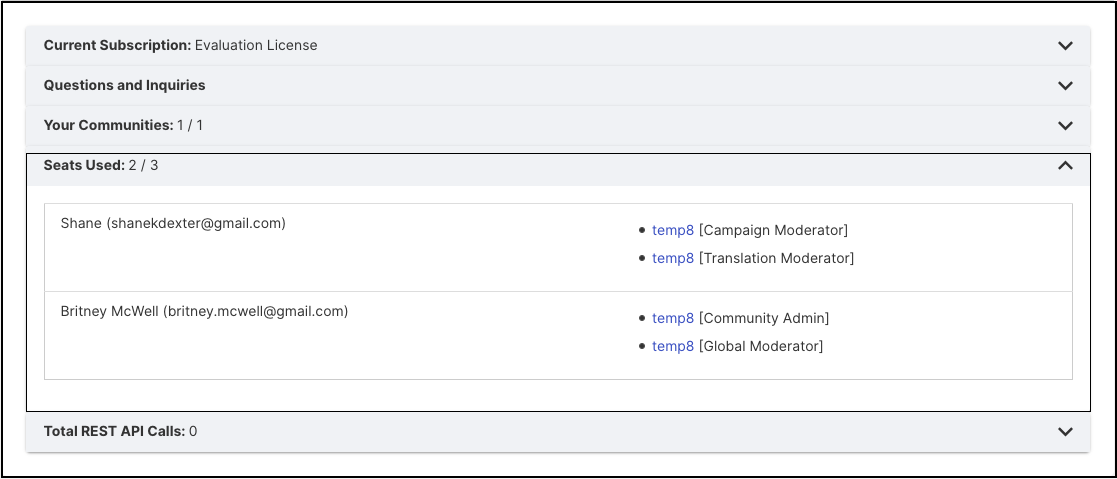 If additional seats are required, you will need to contact the Account manager.
Total REST API Calls
This section shows the number of API calls used for the communities under the account/subscription.
The below screenshot shows that 4 REST API calls have been used for this community