Setting up a scheduled incremental community data report
Path: Settings Dropdown >> Reports & Analysis >> Export data >> Schedule IdeaScale Community Data Export

The administrator of the community can schedule IdeaScale reports on a daily, weekly, and monthly basis depending upon the dropdown selected. This report has a detailed activity of all the activities taken place in the community like an idea submitted, votes, comments, or stage changes. All scheduled reports are sent at 8:00 AM PST.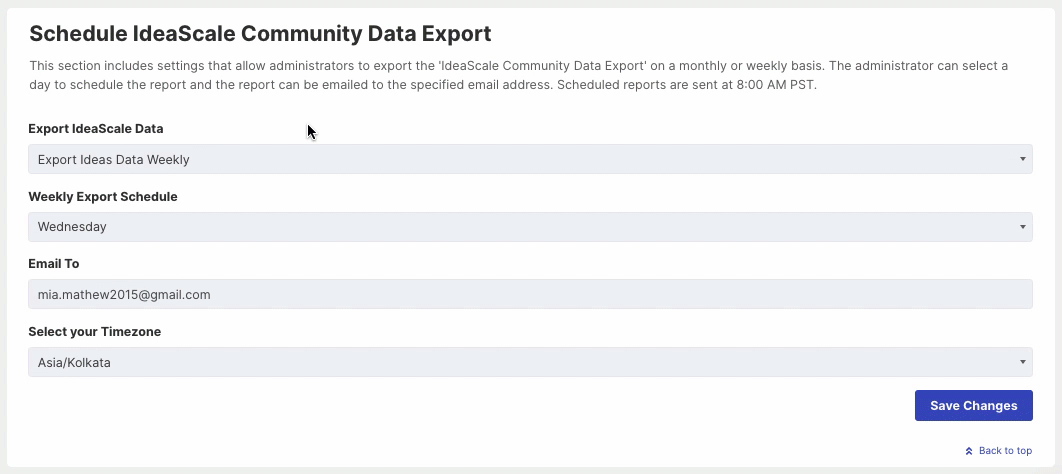 Export Ideas: Ideas can be exported once Daily, Weekly or Monthly. It can be disabled as well.
Weekly Export Schedule: This option is visible only if weekly is selected. Admin can select the day of the week to receive the Idea Data Export.
Email To: An email address of admin or global moderator can be added here to receive this email. Only one email address can be entered.
Select your Timezone: Select timezone to see all the data in mentioned timezone.
The report will be blank if no activity has taken place in the community during that period. This report will only export the ideas for the particular frequency set up by the administrator. These will not include all ideas from the beginning.
Note: In case SFTP (Remote Storage) is setup, all scheduled exports will come from the SFTP and each export will be in Excel. For more information in SFTP, contact your Innovation Architect or our Sales team.