Like Grandma's fruitcake we've got some good things cooking' up for December.
These product updates are a result of external client feedback and internal feedback from employees at IdeaScale. Thanks to ideas.ideascale.com, user interviews, testing, and ongoing design and development, these changes will improve the overall Member, and Administrator experience.

As always - your feedback fuels our direction, please let us know what you think.
Landing Page Updates
Earlier this year we launched our new Landing Page editor to much fanfare/acclaim. We have a few changes we're making to the Landing Page that we think we further delight our clients.

Moving Modules:
We are now allowing modules within a Landing Page to be moved up and down (north/south). This is all accomplished within the Landing Page Edit Mode. Want your hero image at the bottom of the page? Want to give more visibility to your campaigns? Want to move your top ideas to the top of the page? This is all possible now with the ability to move elements on the landing page.
How does it work?
When editing the Landing Page, you can select the up ⬆️ or down⬇️ arrow to move that module Up or Down in relation to the other modules.

What does it look like?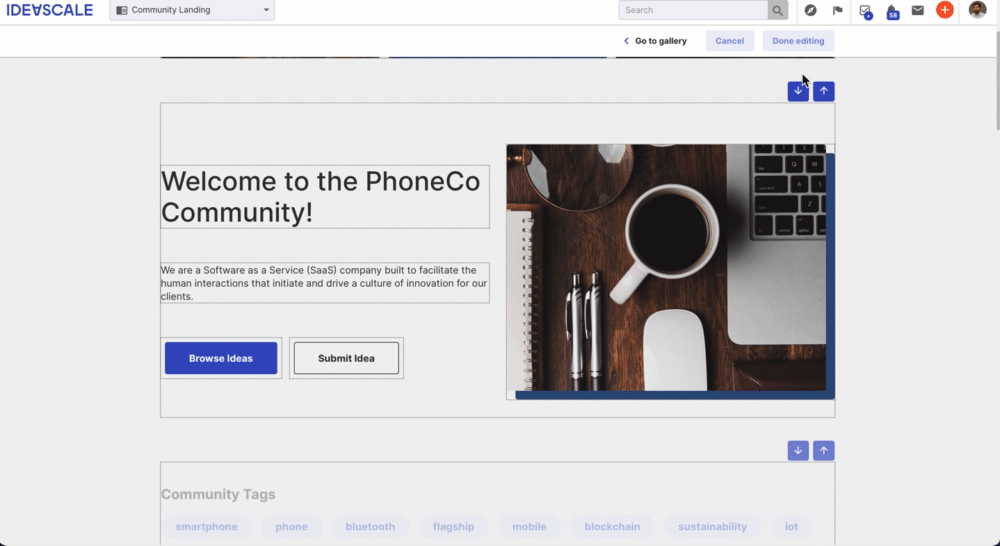 What do I need to do to make this work in my community?
Nothing to activate, this feature is now live in your community.
---

Campaign Display Type: Stack/Carousel/List
Another new enhancement we've added is configurable Display Types of campaigns on the Landing Page. On any Landing Page where you have campaigns featured, the Admin can now select the preferred view of campaigns for your page. As the Administrator you are determining the view for your entire community. The options are Grid View, Carousel View or our new view called Stack.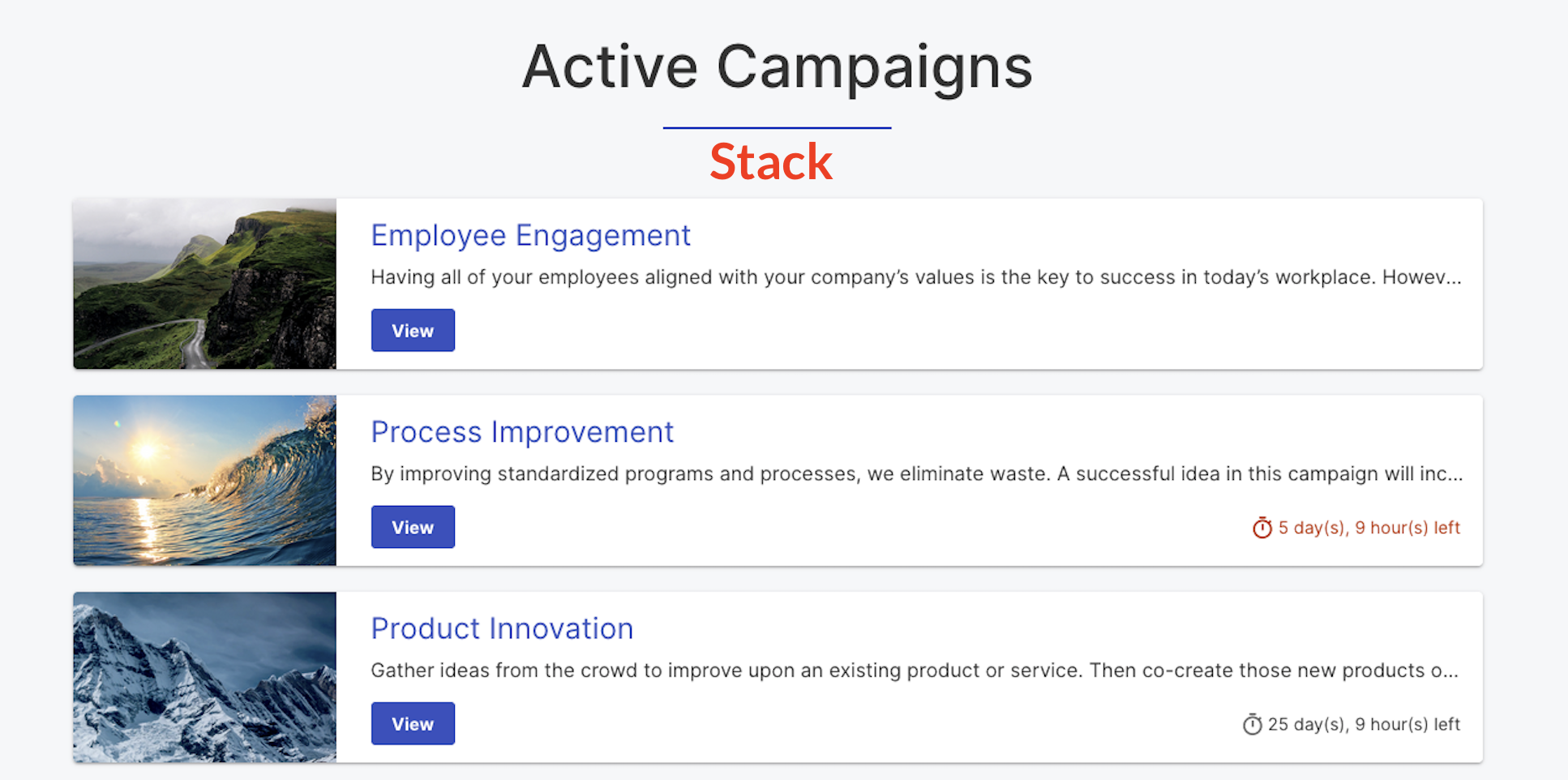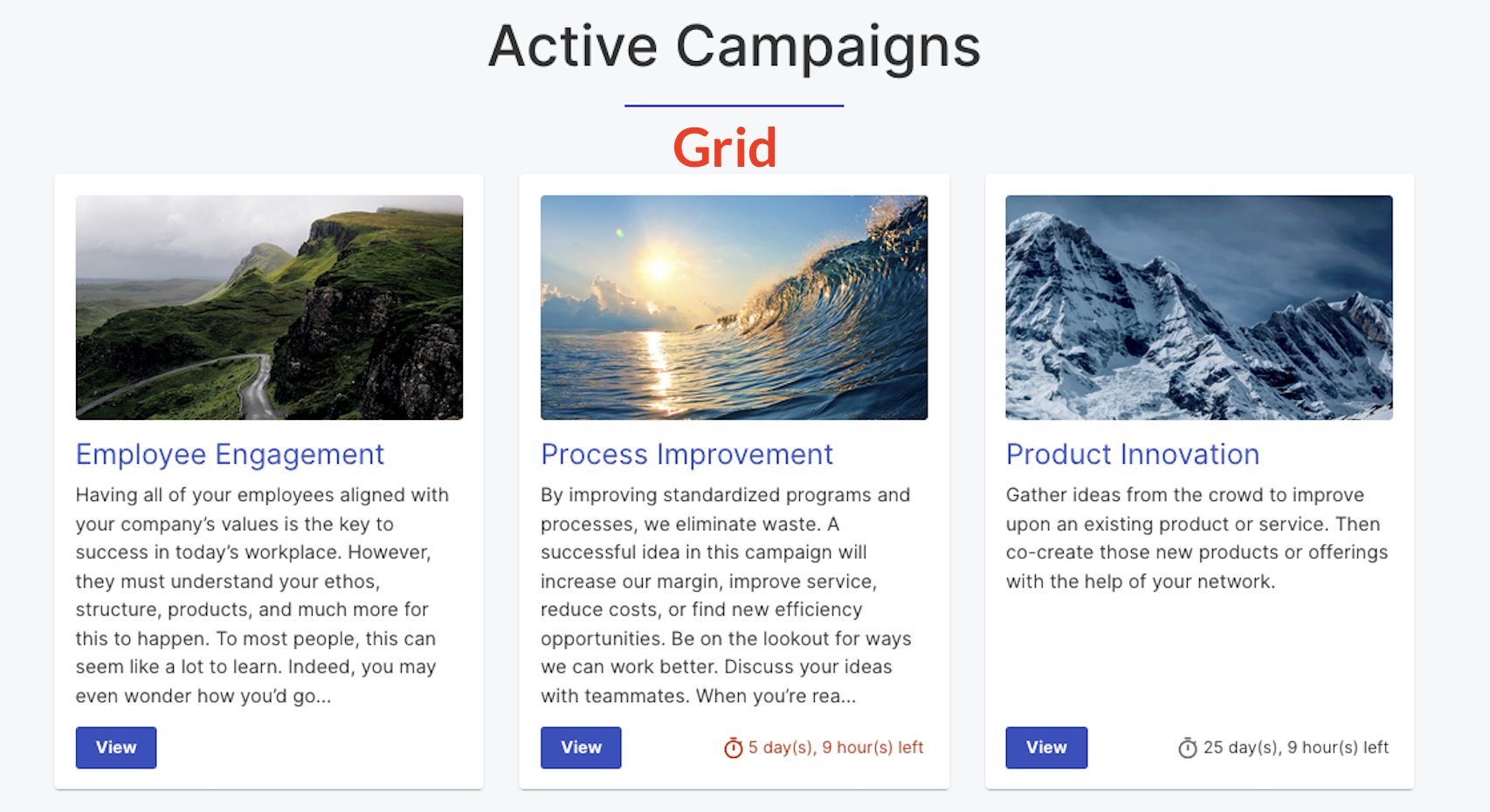 How does it work?
When editing a Landing Page's Campaign Module you can select the Display Type when configuring. This will control the view for all members of the community.

What does it look like?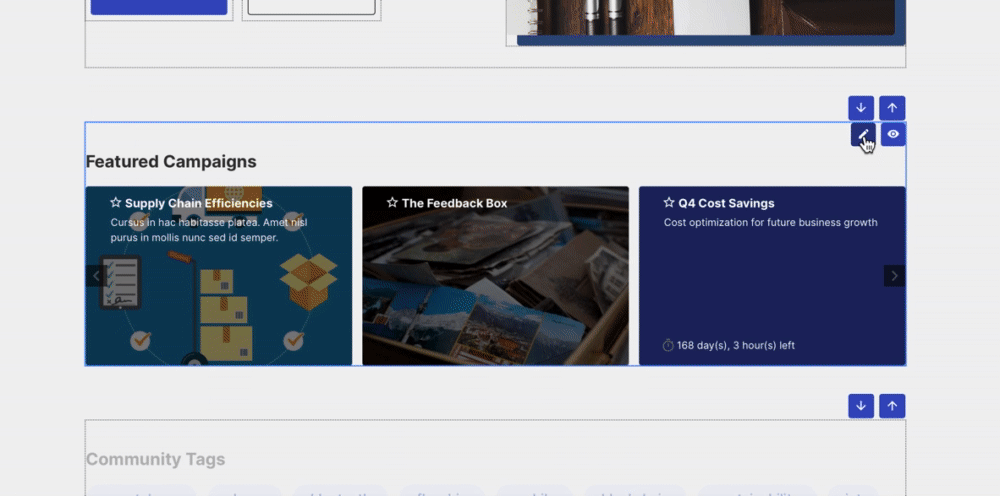 What do I need to do to make this work in my community?
Nothing to configure. This feature is available now.
---

Campaign Expiration Date:
Expiration Dates now appearing on any campaign when Campaign countdown clock is enabled.
---

Subtitles + Campaign Tiles:
After much discussion we have changed the content of the Campaign Tile. In addition to the Campaign Name we will add the Campaign Subtitle to the Campaign Tile. Previously we had been showing the Campaign Description. We feel this makes more sense than trying to jam Campaign Descriptions into a slot that was intended to show just a few lines.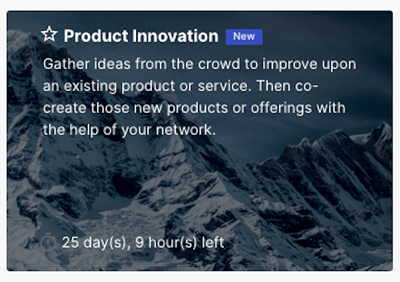 ---
Campaign End Dates on Campaign Tiles:
One final change on the Landing Pages. We are now prominently displaying the Campaign End Date on any Campaign Display Type. This date will be present whenever the Campaign has the countdown clock ON. When the end date is under 7 days, it will be red to stress the urgency. You'll find this not only on Landing Pages but also on the Campaign Carousel on the home page.


---
Alt Text added to all Images


What is Alt Text?
Alt Text, also known as alternative text or alt attributes, is a snippet of text that describes the content of an image. Alt Text is an important feature for the use of accessibility programs designed for audio and visually impaired individuals. Alt attributes enable screen readers to read the information about on-page images for the benefit of a person with complete lack of sight, visually impaired, or who is otherwise unable to view the images on the page. Alt Text will be displayed in place of an image if an image file cannot load for whatever reason.

This feature will be used on all images. This includes images attached to ideas, to comments, in the landing page, as well as all campaign imagery.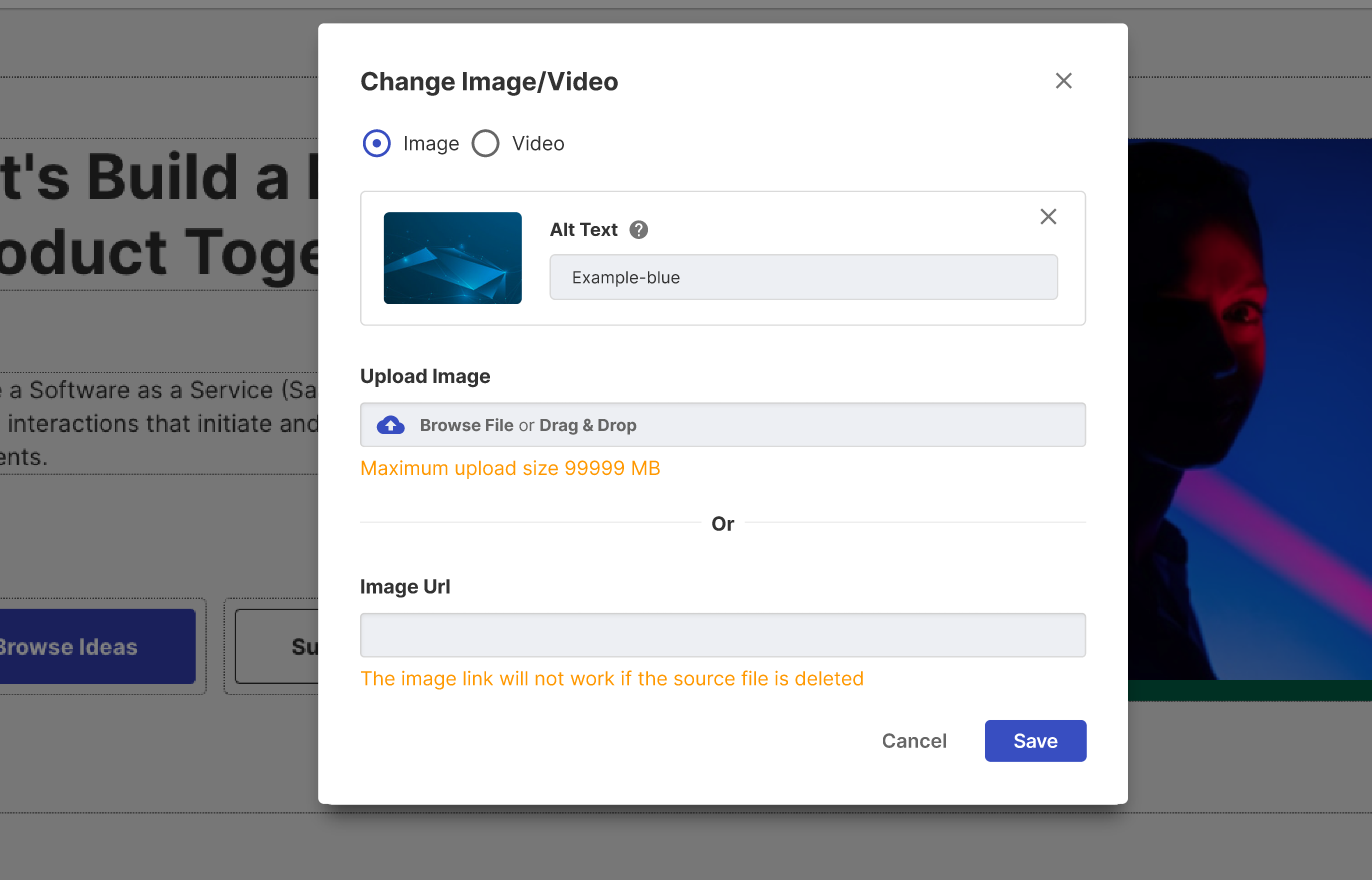 How does it work?
Anytime a member (or Administrator or Moderator) uploads an image they will be asked to add Alt Text to the image. This will allow screen readers to read the information about the images back to the member. Though Alt-Text is not mandatory, we will use the image's file name as the default Alt Text caption. The member can change the text at any point (not just on upload).

Why is it important?
This is an important feature that will allow visually impaired members to better participate in your community.

What does it look like?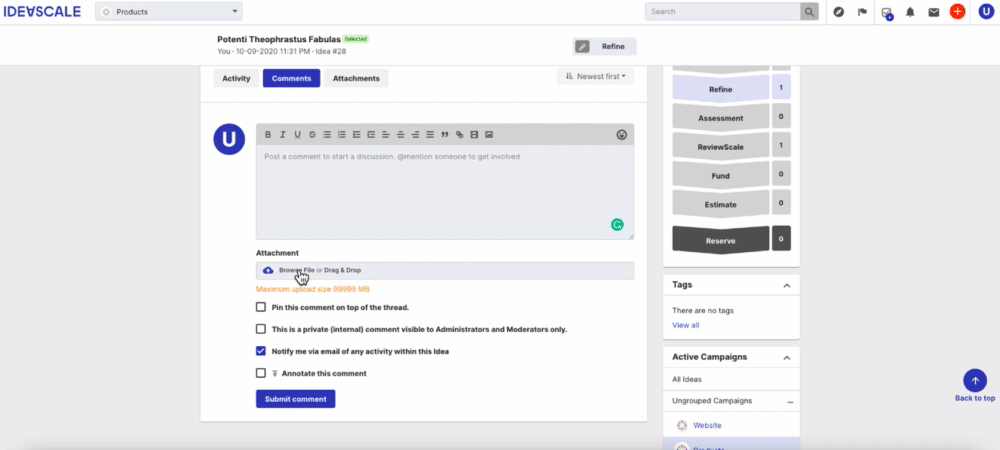 What do I need to do to make this work in my community?
Nothing to activate, we are expecting to release by the end of the year. Once it's released we would encourage you to check your images to ensure they have a good description of the images.
---


Interested in joining the Recommended Ideas Beta testing?
Lastly, we are working a new feature called Recommended Ideas. This is an idea sort that is specific to each member of the community, based on their previous activity within a community. In order to improve our NLP recommendation engine we need more data! That's where you come in. We're looking for a few volunteer communities that will allow us to turn this on (and provide feedback). This is not an intrusive feature, we merely adding another sort option to your ideas sort (see below). If interested, shoot your account manager a note. We hope to release this feature widley early next year.