Path: Community Settings >> General Settings >> Language Settings

With Real-Time Translation, IdeaScale administrators can easily translate user-generated content such as ideas, comments, and notifications into multiple languages in real-time. This feature provides a seamless and efficient way to localize content, making it accessible to a wider audience.

Language Settings: Basic
Supported Languages
Administrators need to specify languages by selecting those that their community will support. Community members will then be able to choose their preferred language in the idea submission form when they submit ideas or comments. IdeaScale support 36 languages as mentioned in the screenshot below out of which 2 are Right To Left languages.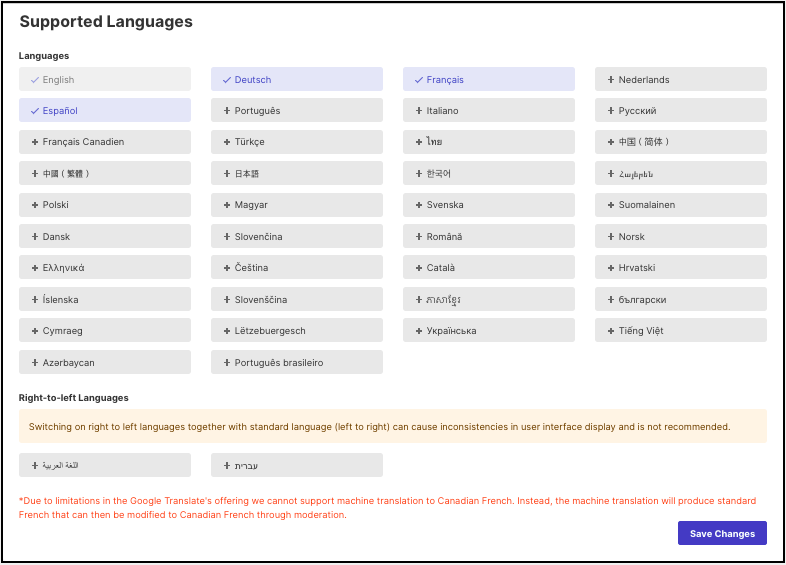 NOTE: Selecting Right To Left languages with Left To Right languages may cause rendering issues

Azerbaycan (Azerbaijani)

Հայերեն (Armenian)

български (Bulgarian)

Português brasileiro (Brazilian Portuguese)

Français Canadien (Canadian French)

Català (Catalan)

中国(简体) (Chinese (Simplified))

中國(繁體) (Chinese (Traditional))

Hrvatski (Croatian)

Čeština (Czech)

Dansk (Danish)

Nederlands (Dutch)

English

Suomalainen (Finnish)

Français (French)

Deutsch (German)

Ελληνικά (Greek)

Magyar (Hungarian)

Íslenska (Icelandic)

Italiano (Italian)

日本語 (Japanese)

ភាសាខ្មែរ (Khmer, Cambodian)

한국어 (Korean)

Lëtzebuergesch (Luxembourgish)

Norsk (Norwegian)

Polski (Polish)

Português (Portuguese)

Română (Romanian)

Русский (Russian)

Slovenčina (Slovak)

Slovenščina (Slovene)

Español (Spanish)

Svenska (Swedish)

ไทย (Thai)

Türkçe (Turkish)

Українська (Ukrainian)

Tiếng Việt (Vietnamese)

Cymraeg (Welsh)
Batch Translation
Turning ON real-time translation only translate ideas that are submitted after the setup. The Batch translation tool machine translates the existing data in the supported languages by selecting each supported language as the Target language. This step needs to be repeated for all the supported languages. An email is received by the community owner once the Batch translation is complete.

NOTE: Ideas and comments which are already translated will not be processed again during batch translation.
Language Settings: Advanced
Community Strings
Community strings include any standard text which is generated by IdeaScale (including standard community text editors, tabs, standard email text, and notifications). These strings can be customized in the Languages and Strings.

1. Translate Email Notifications - The email notifications will also be translated into the supported languages.

2. Only Display User Interface In Supported Languages - When this switch is turned On, the users who have their profile language set to unsupported languages will see the community in the default language of the community.

3. Machine Translate Community and Campaign Titles & Description in Real-Time: Enabling this will have the community and campaign details machine translate automatically on a real-time basis. It will also translate idea custom field questions.
Please Note: Machine translations are sent to the Google Cloud Translation API service. Google does not use any of your content for any purpose except to provide you with the Cloud Translation API service.

4. Allow Admins to create campaigns, campaign groups, and custom fields in all supported languages: With this switch enabled the admins of the community will have ease in creating campaigns and campaign-related groups and custom field in the supported languages of the community without having to translate those later.
Note: By default, this content is created in the community's primary language only.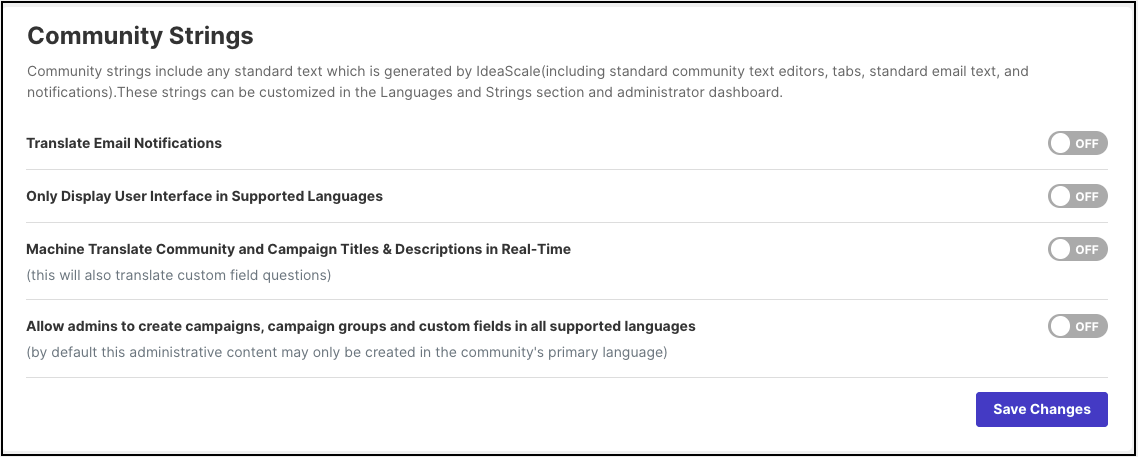 Real-Time Translation
Ideas, comments, and idea custom field responses are automatically machine translated into the community's supported languages. Admin can customize how this translated content is displayed in the community by setting the following switches.

Machine Translate Ideas & Comments in Real-time: This switch when turned on will automatically machine translate the ideas and comments which are submitted henceforth by the members into supported languages.

Show Translated Ideas And Comments by Default: When this switch is turned On, the ideas will be exported in the translated language i.e. default language of the community.

Display Unverified Translation: Turning On this switch will show the ideas and comments in the member's profile language (if the said language is set as a supported language by the admin) even if they are not verified by the translation moderators.
NOTE: Existing ideas and comments in the community before enabling real-time translation will not be translated. In order to have that content translated, the admin will need to perform batch translation.
Translation Moderators
If the community administrators would like to add an additional level of quality control to look over the automated translation, they can assign Translation Moderators to review and verify machine-translated ideas and comments and provide translations for admin-generated content such as custom field questions, community and campaign titles and descriptions from Translation Moderation dashboard.

To assign a community member as a Translation moderator, simply enter the email address in the 'Email Address' field and click 'Assign'.

NOTE: Translation Moderators do not have access to any idea, comment, or member moderation, they can only verify and input the translations.
Translation Moderation Dashboard
The section 'Translation Moderation' to translate the content will be visible under the dropdown in the top right-hand corner where the logged-in moderator's name is displayed.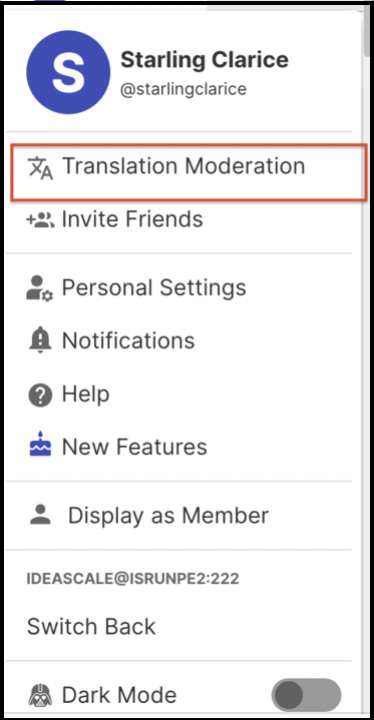 This section is divided into 4 parts:
a. Ideas & Comments: This contains the original text as well as translations for all the ideas & comments which have been submitted in the community.
b. Headings & Descriptions: This allows to translate community name and homepage text, custom page and its content, campaign group, and campaign names.
c. Custom Field Questions: This contains the translation for idea custom fields, stage custom fields, member profile questions as well as campaign profile questions.
d. Stages Content: This section allows to verify and review the stage names and their descriptions.
To help translation moderators narrow down to their required content quickly, each section has the option to select source language, target language (in which content is translated), type of content, and a keyword search field.
Reviewing content
By clicking on the 'Review' button, a new pop-up will appear where the translator can make the necessary changes to the translation or verify it.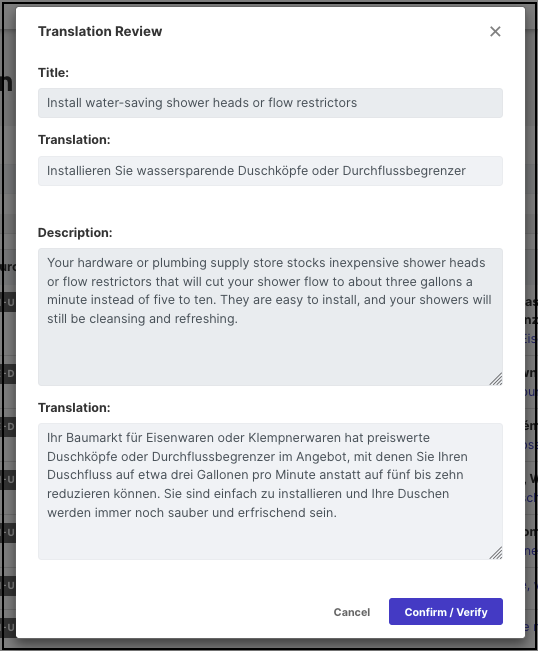 Update/translate the content and click on the 'Confirm/Verify' button to save the changes.
Below is an example of how the real-time translation is visible to the idea submitter by having his profile language set to something other than English. Along with screenshots of how it appears to standard users.

For example:
Idea Submitter: Profile language German and this is how the idea detail page looks.
Standard user: Profile language English


The standard users view: The standard user automatically sees the idea submitted translated as per the user's profile language which in this case is English. The unverified Translation Label will be visible if the idea is not translated/reviewed.


The idea can be reviewed by Translation Moderator by clicking on the Review Translation option from More (3 dots) icon on the homepage.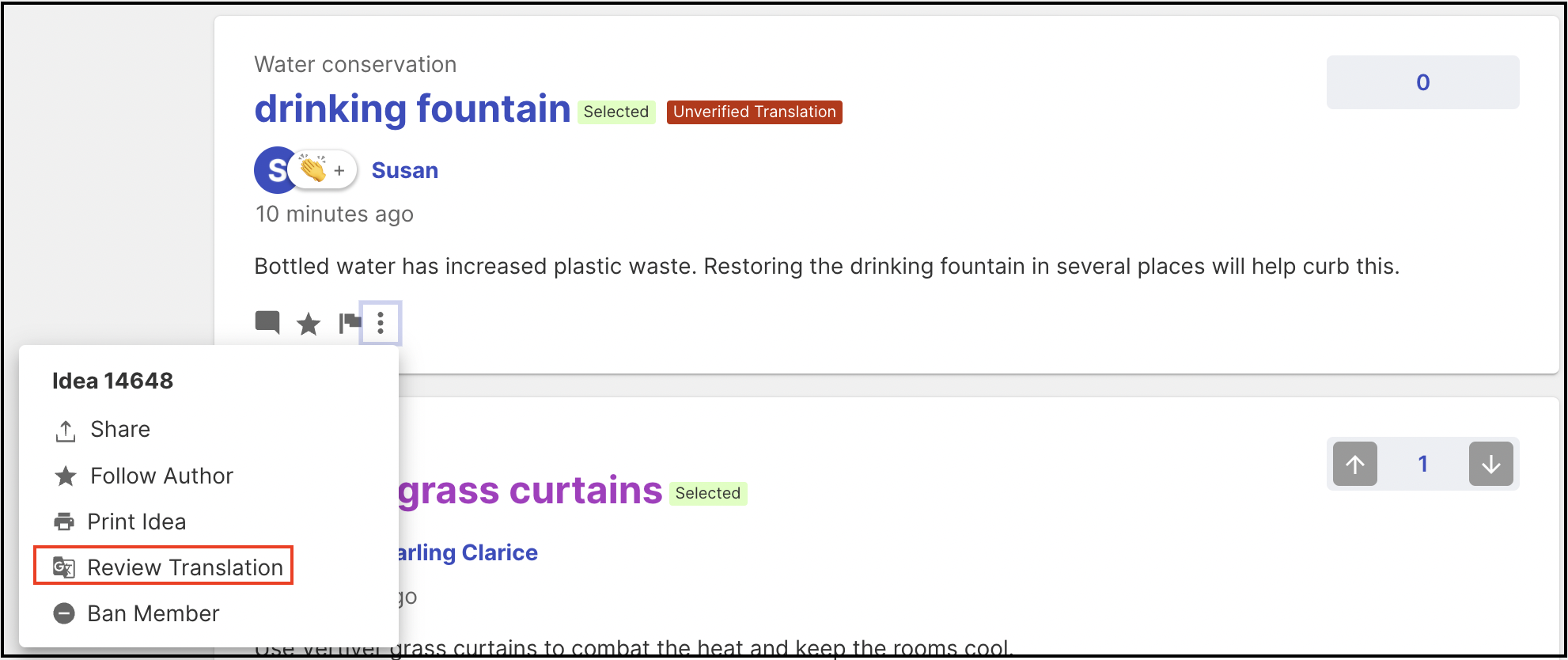 To learn more about Review Translation click here.