Keep Off Leaderboard
How to turn off the Leaderboard
Path: Settings Dropdown >> Member Management >> Action Tab

The administrator of a community can remove an administrator, moderator, or a member from the leaderboard ranking from the Member management dashboard.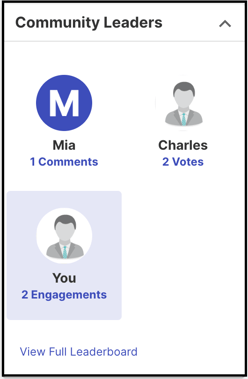 You would need to search the email address of the user whom the admin wishes to remove from leaderboard, select the user and then from Action tab select ' Leaderboard' and choose OFF.


Similarly to put a user back on the leaderboard, select Action Tab >> Leaderboard and choose On.

Assigned Administrators and community owners can remove themselves from the Leaderboard. Also, the leaderboard can only display 10 users at a time.
Last Updated: June 29, 2023