Path: Community Settings >> Workflow >> Funnel Management >> Ideate Stage
This stage allows members to vote up/down on ideas. Only one vote per idea is allowed. Administrators can disable downvoting and keep the option of upvoting alone. Vote retraction can also be enabled.

Ideate Stage Settings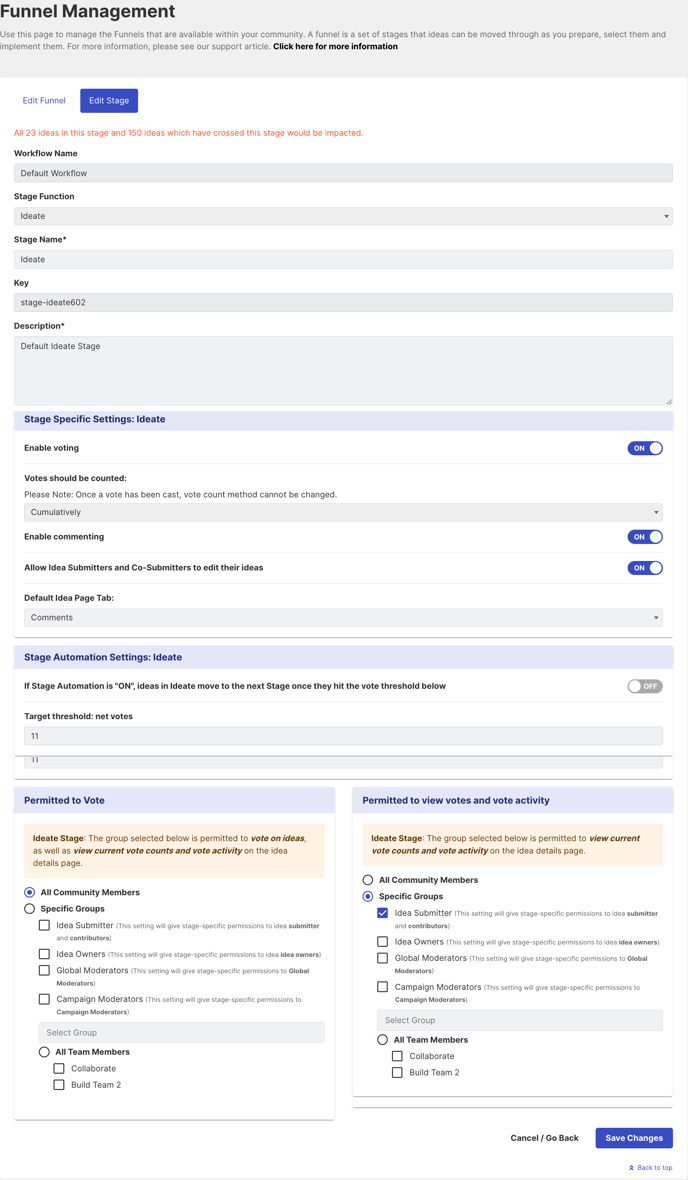 Stage Function: Select Ideate stage from drop down. Once selected and saved, this section will be greyed out and cannot be changed to other stage

Stage Name: Create a custom name/label for selected stage. Note: Character limit is 40.

Description: Describe stage functionality or how you would like to use this stage. This description will be mouseover text on stages stack on right navigation of community homepage

Stage Change Notification: Enabling this setting sends an email notification when an idea changes stage.

Enable: This indicates that stage is active and ready for use. When enabled, stage will be reflected on right navigation of the community homepage

Enable Voting: Voting can be enabled/disabled in this stage by using ON/OFF toggle switch. When voting is enabled we get a choice on how the votes should be counted. It can be either Cumulatively or per stage basis.

Enable Commenting: Commenting can be enabled/disabled in this stage by using ON/OFF toggle switch

Allow Idea Submitters and Co-Submitters to edit their ideas: The idea submitters and the co-submitters will be able to edit the ideas in this stage if this switch is enabled.​

Default Idea Page Tab: This dropdown allows you to select the on which tab should the idea page be like comments, attachments or activity.

Stage Automation Settings: Enabling the toggle switch to ON will move the ideas from the Ideate stage as the vote threshold is met.

Permitted to vote: All community members or group of selected members can vote on ideas, view vote counts and vote activity

Permitted to view vote and vote activity: All community members or group of selected members can view vote counts and vote activity but cannot participate in voting process. For additional information on setting up groups, please refer Groups
Ideate Stage Functionality on the home page
Once an idea is moved to ideate stage, participants who are permitted to vote can vote on ideas.

The vote count displayed within the vote box is net votes i.e difference between up vote and down vote.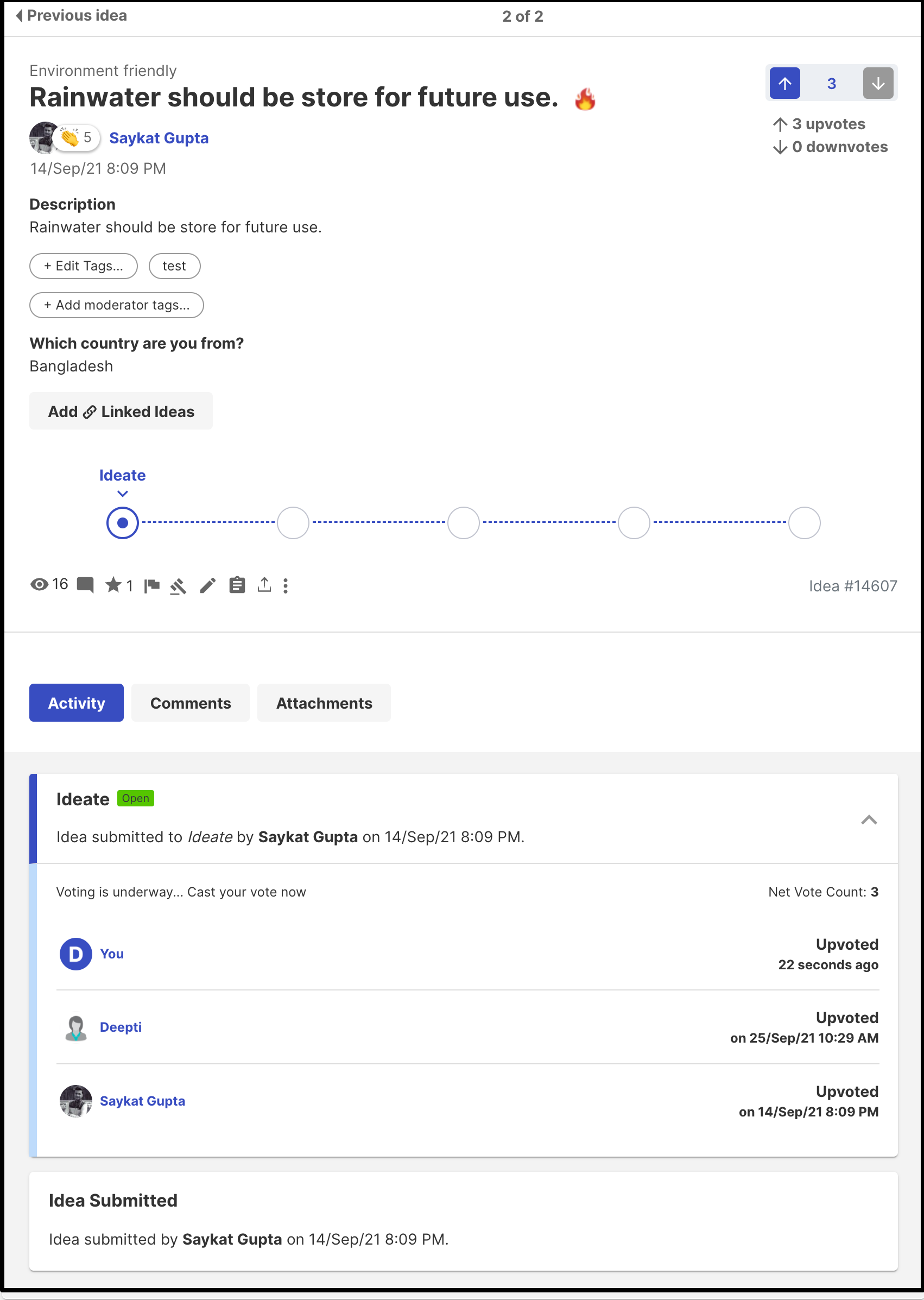 Participants who are permitted to only view will be able to see the vote count and vote activity. The voting arrows will be greyed out.





Participants who are not permitted to view or participate will not see the progress bar, net votes, or the voting details.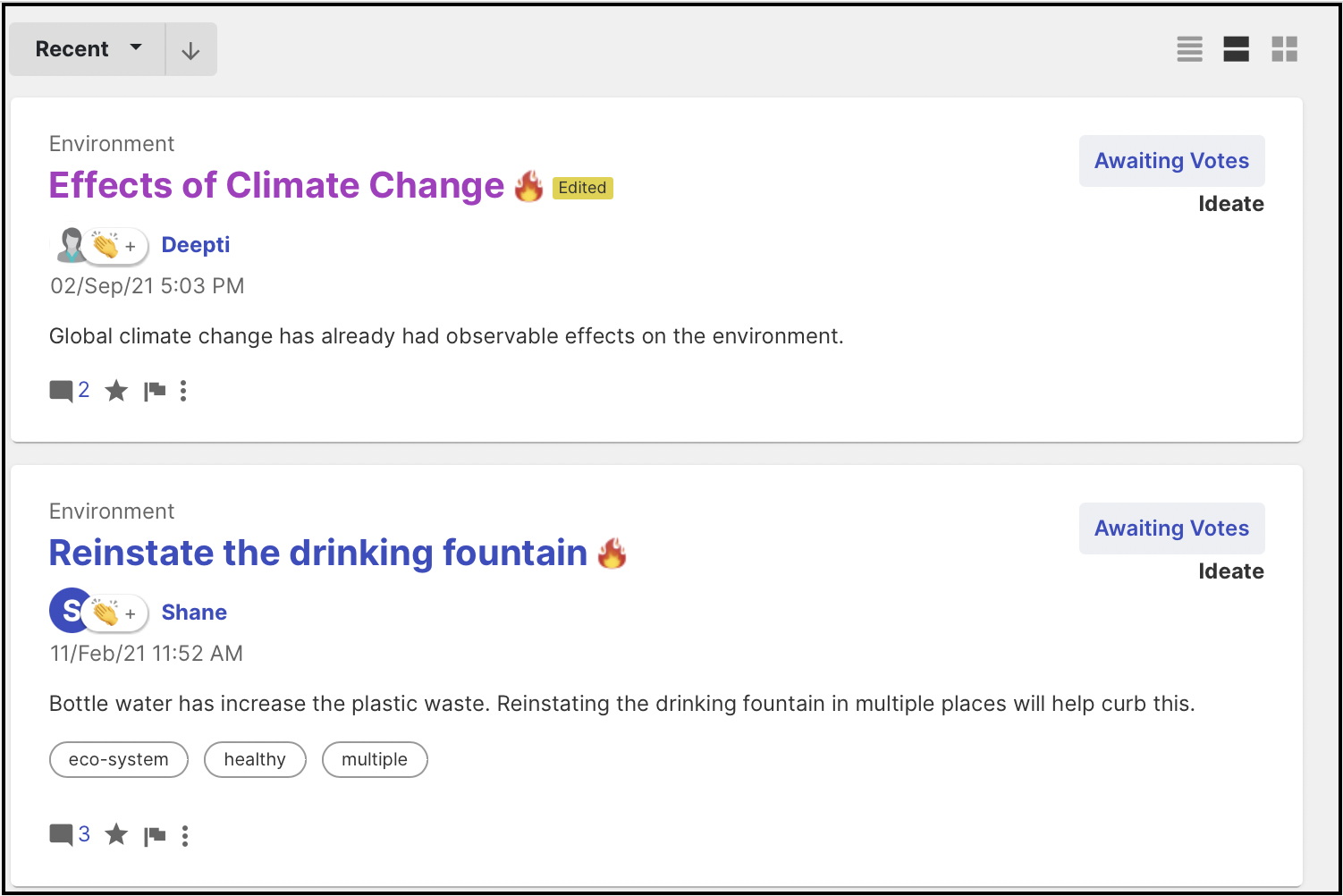 Here is a short video of how to set up Ideate stage: