Upload files in file library
Community Settings >> Customization >> File Library
File Library allows you to upload files or images which can be used in the community.

Administrator can upload images/logos/files to the IdeaScale administrative community from Community Settings >> Customization >> File Library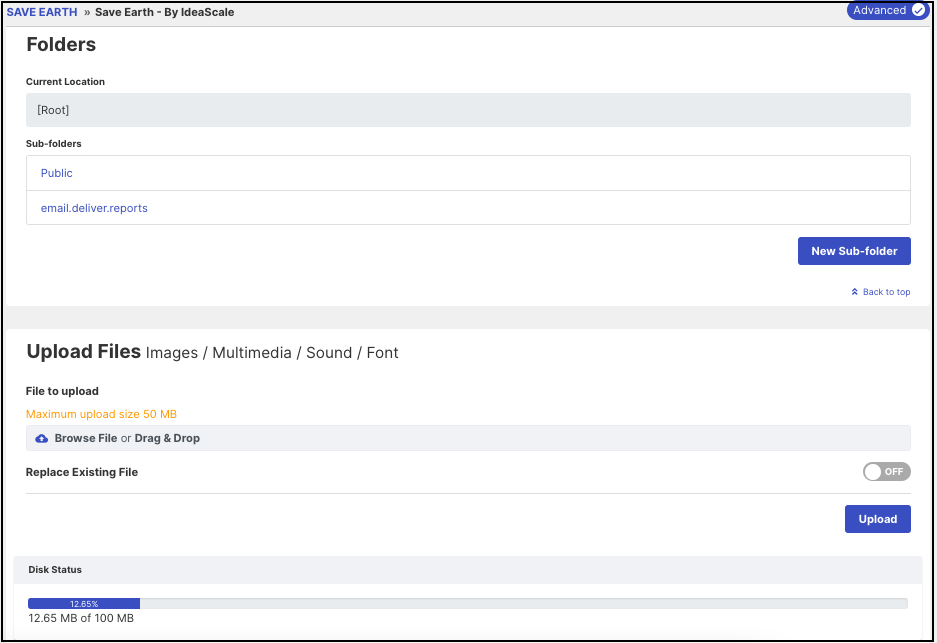 Images/logos/files can also be uploaded through IdeaScale administrative account from File Library which shows all the images or files uploaded throughout the account. Simply browse the file to be uploaded or drag and drop it in the above area.
Replace Existing File
To replace an existing file with a new one, enable Replace Existing File switch and then upload the file.
The new file name should match exactly with the existing file.
Malicious Content Warning
In case there is malicious content during the upload it will show an error and the upload will fail.

Sub-folders can be created within these libraries. These folders can be edited or deleted. List of existing files saved in the community file library as be found by scrolling down the page.
The files in the sub-folder will be deleted if the folder is deleted.
Make File Public/Public Folder
In case of a private community where an admin is using the images in emails, banners i.e. wish to make them available outside of IdeaScale application, it is advisable to mark the images and files as public by clicking on the Make Public link beside the image from the File Library. The files will then be available for external communication as well, not limited internal use.
These images once make public will be removed from the 'Existing Files' list and instead housed under a new folder called 'Public' in the File Library itself.
Alt Text for Image Files
Administrator can now provide an alt text for all the image files under Existing Files section. Simply click on the Pencil icon, enter the text and click on Save.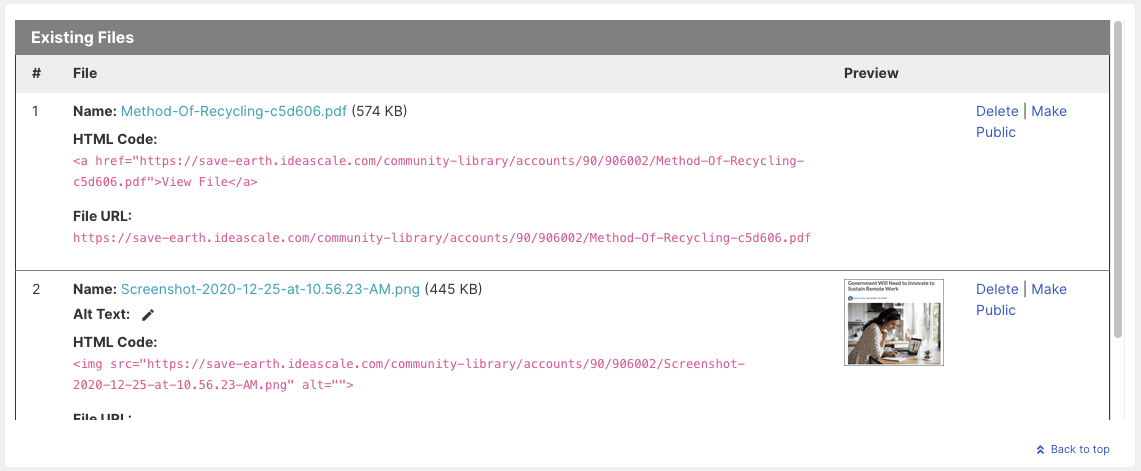 File limit, Size and Types
Admin can upload the unlimited number of files with all paid subscriptions. However, depending on the subscription level there is a limitation on the total file size.


Individual file size should not exceed 1MB. Smaller the file, faster it will load up.

Following is the list of file types that can be uploaded:
.gif, .jpg, .png, .bmp

.swf, .flv

.mp3

.avi, .mpeg

.txt, .doc, .docx, .xls, .xlsx, .ppt, .pptx, .pdf

3D printing file formats: .OBJ, .STL, and .STP