Accesses and Settings for Custom Admin Role
Path: Community Settings >> Admins/Moderators/Groups >> Custom Admin Roles

Creating a Custom Admin role within a community allows admins to pick and choose what type of access users with this role have within a community. The administrator of the community can select from the various features that the custom admin can have access to by enabling the switch only for those specific features. Multiple custom admin roles can be created.

Toggle the switch to Advanced from any part of the community settings to access the Custom Admin Setting.

Custom Admin Settings
This allows admin to create the Custom Admin Roles as desired with a unique title and settings.


Edit: Edit link allows to modify an existing custom admin role's name, selected features as well as custom admin assignment.
Delete: A custom admin role can be deleted by using this link.
Assign: Admin can do a quick assignment of custom moderators from here.
Click on Assign, to open up the Add members pop-up. Search the member based on Email address, or display name. They can also be searched using filters for Groups and single-choice member profile questions.
Select the member from the search result and click on Assign button. A success message will be displayed.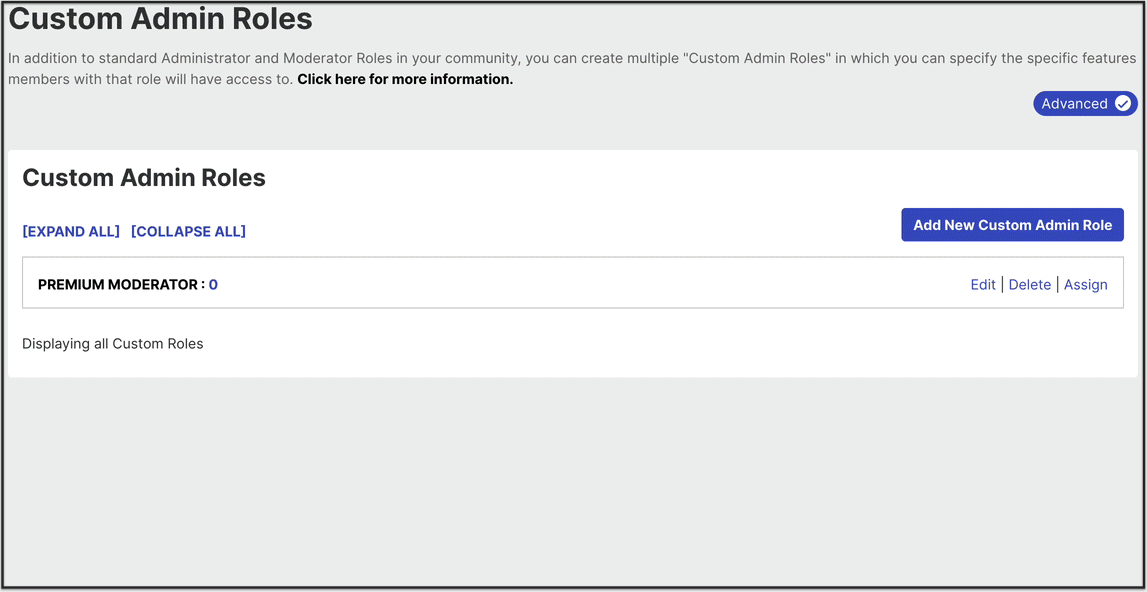 To unassign them, click on the count of Custom admin role. Unassign link will show up beside the assigned custom admins. Click on it to unassign.

Add New Custom Admin Role
Click on the Add New Custom Admin Role button to create a new role with a different set of features and custom admins. It will open up the Custom Admin Settings page.
From here, admin can customize access to features that would allow the now assigned custom admins to control.
Custom Admin Name: Set a name for the custom admin role.

Custom Admin Access
Now, turn ON the settings that need to be assigned to the role. The Custom Admin would have access to all the permitted sections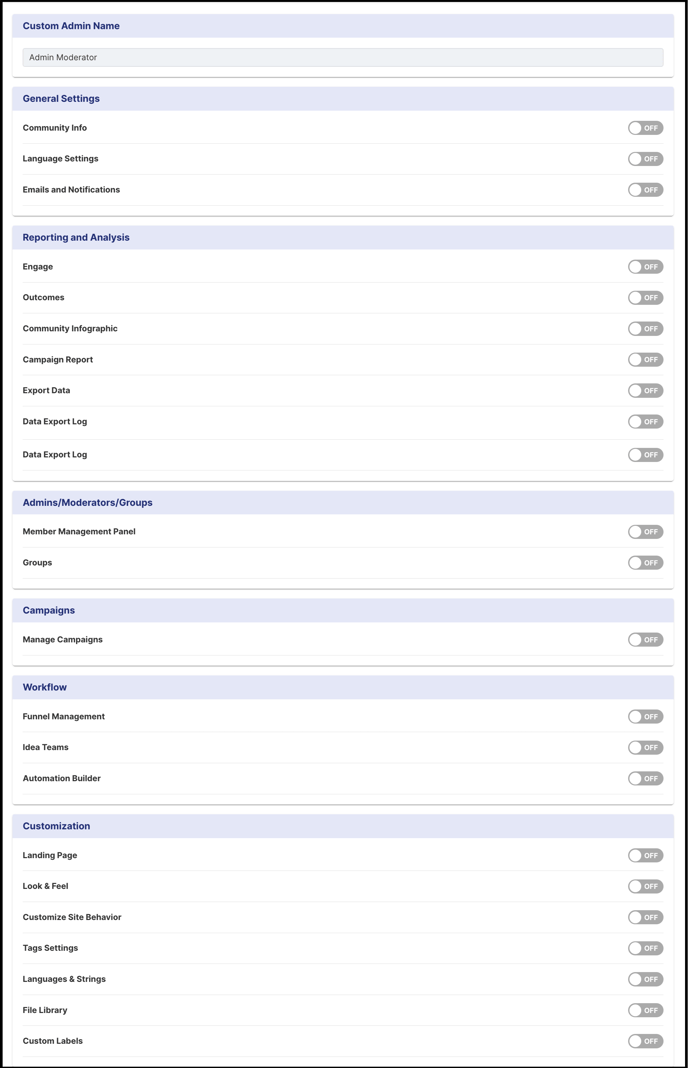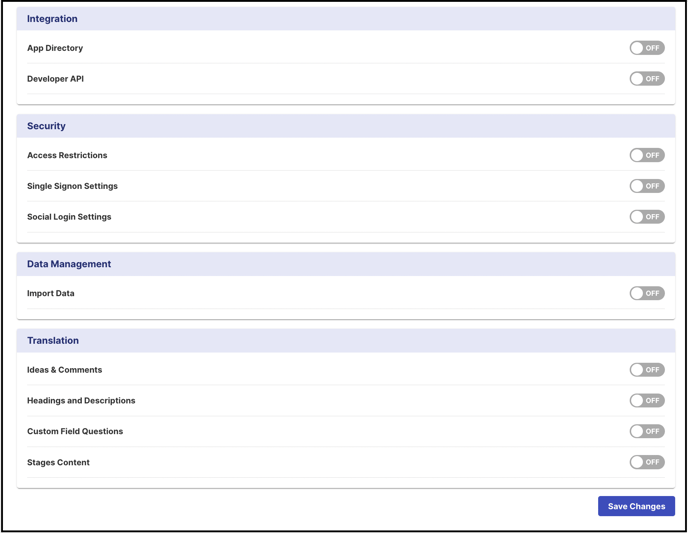 Once done, save the changes and the role will be created.
Depending on the selected access sections, a Custom admin will have the option available just below the name and avatar in the Settings dropdown. They will also have Display as Member option available.

With all the privileges assigned to Custom Admin these assigned admins would still not be able to assign or edit the campaign sponsor or campaign moderator. However, they can unassign a campaign sponsor and can submit ideas on behalf of members if the setting is enabled.
An existing Administrator, Campaign Administrator or Campaign Group Administrator cannot be assigned as Custom Administrator.