Path: Community Settings >> Workflow >> Funnel Management >> Assessment Stage
The Assessment stage allows ideas to be evaluated by custom questions and ratings answered by a set of assessors that were assigned by the administrator of the community. Using this stage is a great way to organize, prioritize, and get buy-in for your communities ideas.
Stage Setup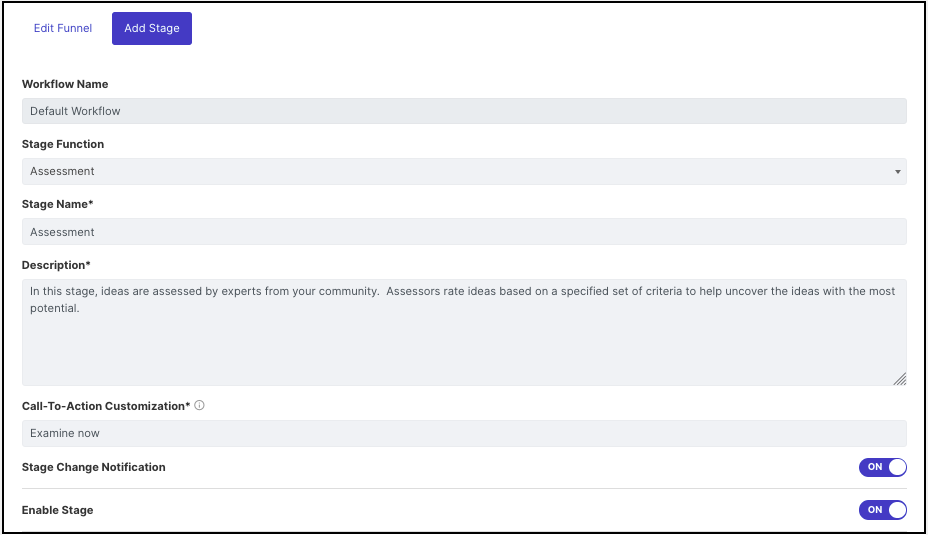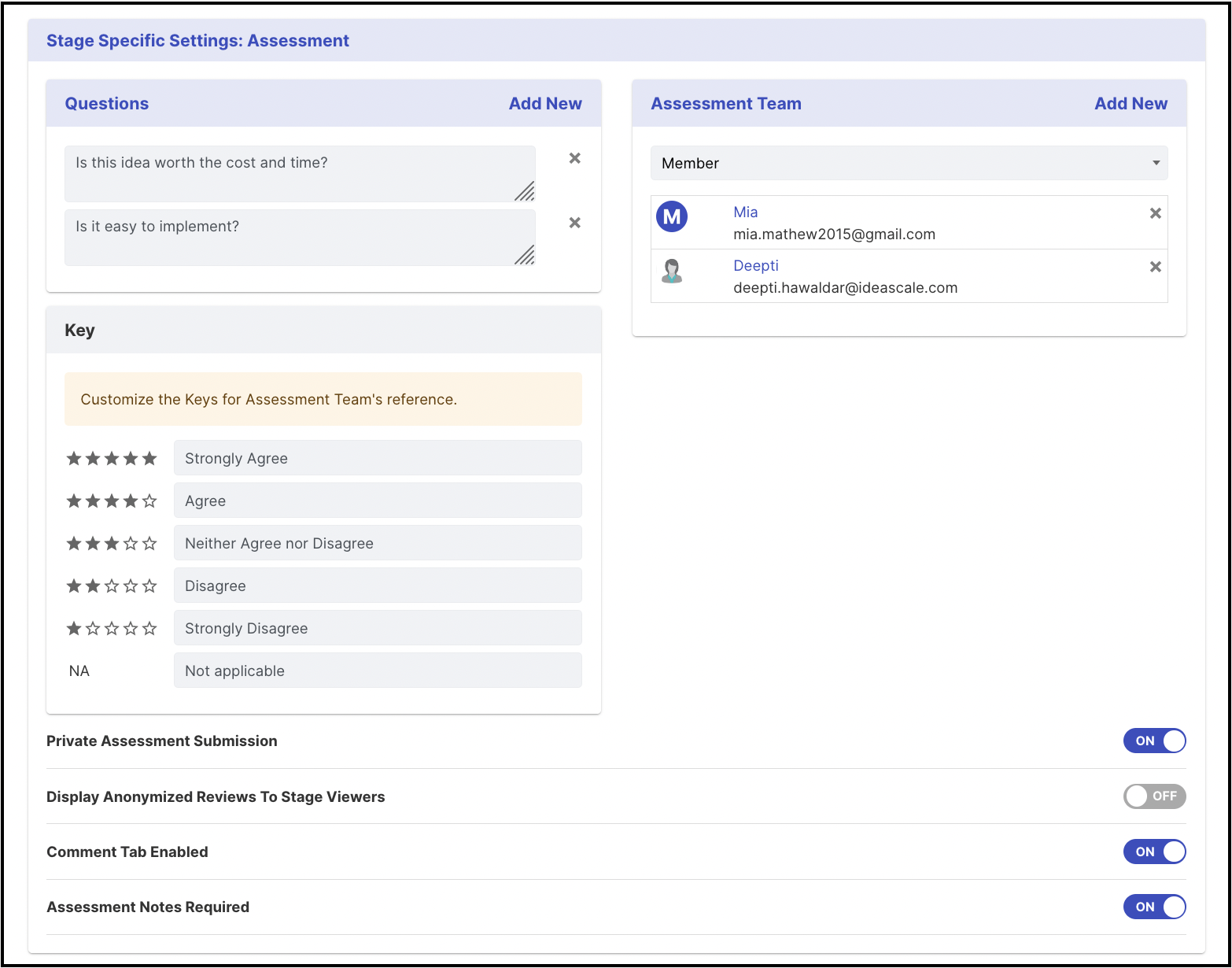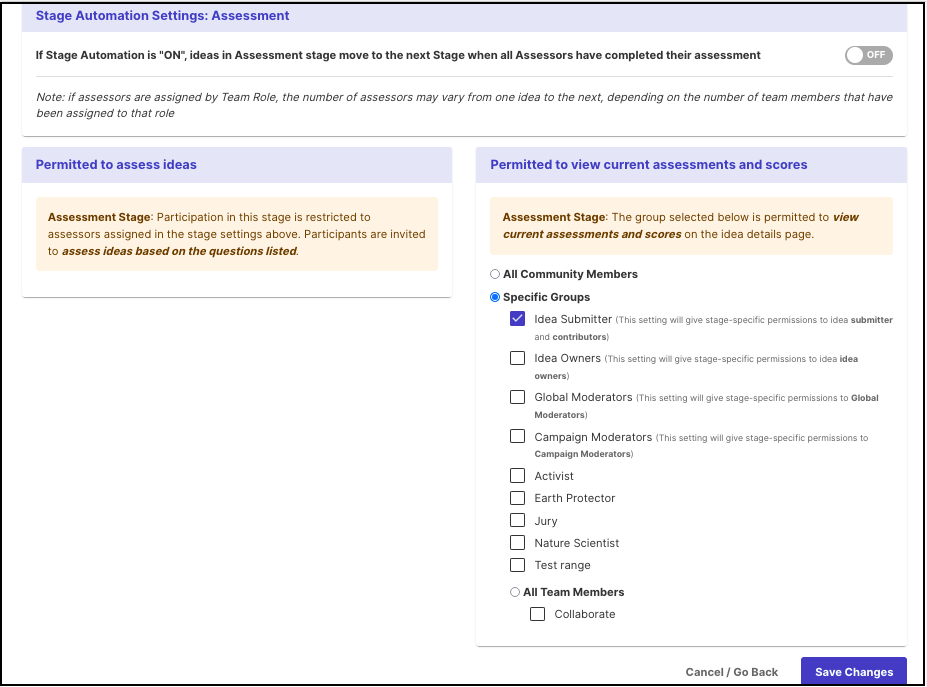 Stage Function: Select the Assessment stage from the dropdown. Once selected and saved, this section will be greyed out and cannot be changed to another stage

Stage Name: Create a custom name/label for the selected stage.
Note: The character limit is 40.

Description: Describe stage functionality or how you would like to use this stage. This description will be mouseover text on stages stack on right navigation of the community homepage

Call to Action: This setting allows you to customize the CTA block on the homepage.
Note: The character limit is 12.

Stage Change Notification: Enabling this triggers an email notification on the stage change of the ideas.

Enable Stage: This indicates that the stage is active and ready for use. When enabled, the stage will be reflected on the right navigation of the community homepage

Questions: The administrator can add a list of custom questions for assessment

Assessment Team: Administrator assign assessment task to individual Member or set of members by selecting Group or Team Role.

Key: The administrator can define the meaning of each star/key for the Assessment team.

Private Assessment Submission: When turned ON, Assessment data is not shared on the idea detail page, it is kept private between the review submitter and administrator. (One assessor cannot see another assessor's rating). The overall rating will also not be visible.

Display Anonymized Reviews To Stage Viewers: This switch will be displayed only if we have Private Assessment Submission enabled. When this setting is enabled it will display the scores and notes added by the assessors under the name of Community Member instead of the actual username. This impact of the switch can only be visible when the idea is in another stage.

Comments tab enabled: Enabling this will have two sections in the comments tab one of which will be named Community and the other being the Assessment stage name. All the comments pertaining to the idea can be entered in the Community tab by any user and any specific comments for the Assessment stage have to be entered in the second tab.

Assessment Notes Required: Enabling this setting will require all the assessors mandatorily to add a note along with the scores. Only then will the scores will be saved and move to the next question.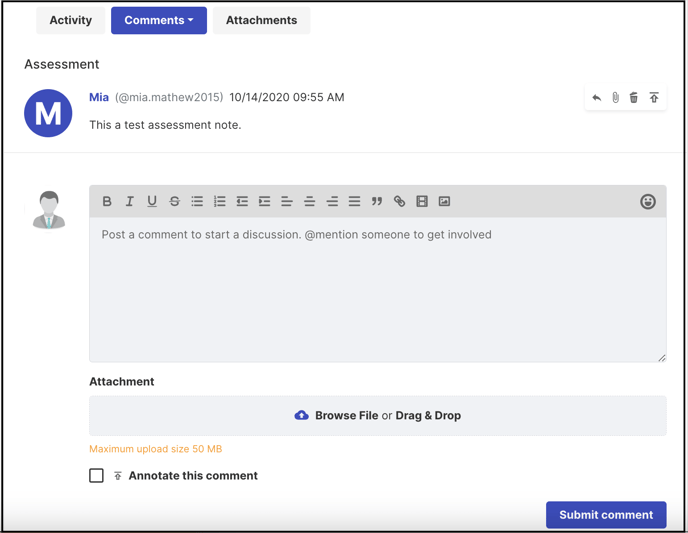 Permitted to assess ideas: Basically, Assessors Team is permitted to participate or submit an assessment on ideas.
Permitted to view current assessment and scores: All community members or groups of selected members are permitted to view the current assessment and scores on the idea detail page
Assessment Stage Functionality on the Home page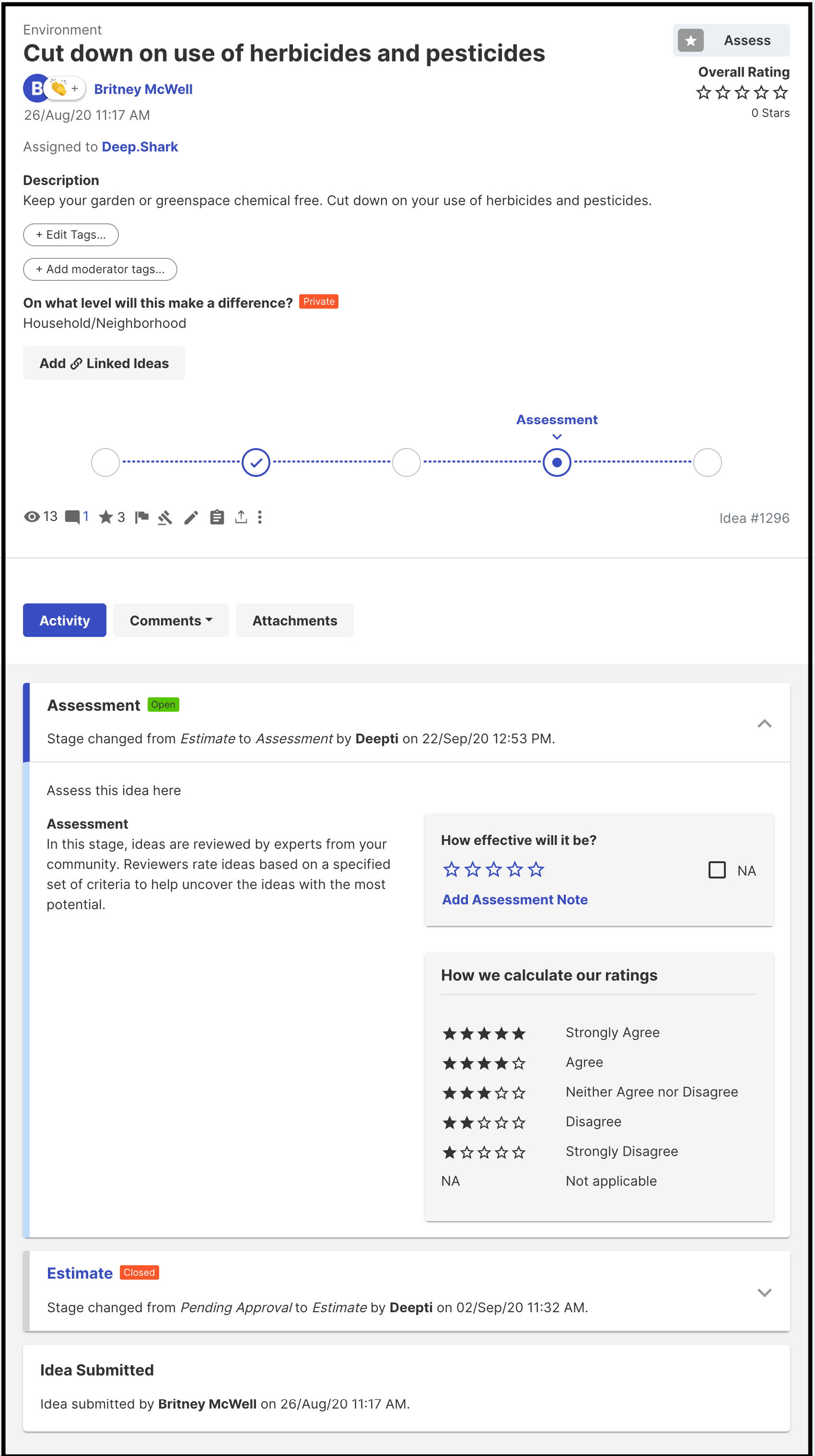 Participants assess and rate ideas based on questions on a scale of 5 stars or user the NA option. The meaning of the star rating is mentioned below the questions. An assessor can add an assessment note to each question (optional) and click on the finish button. The assessment note will be only visible to the assessor's team.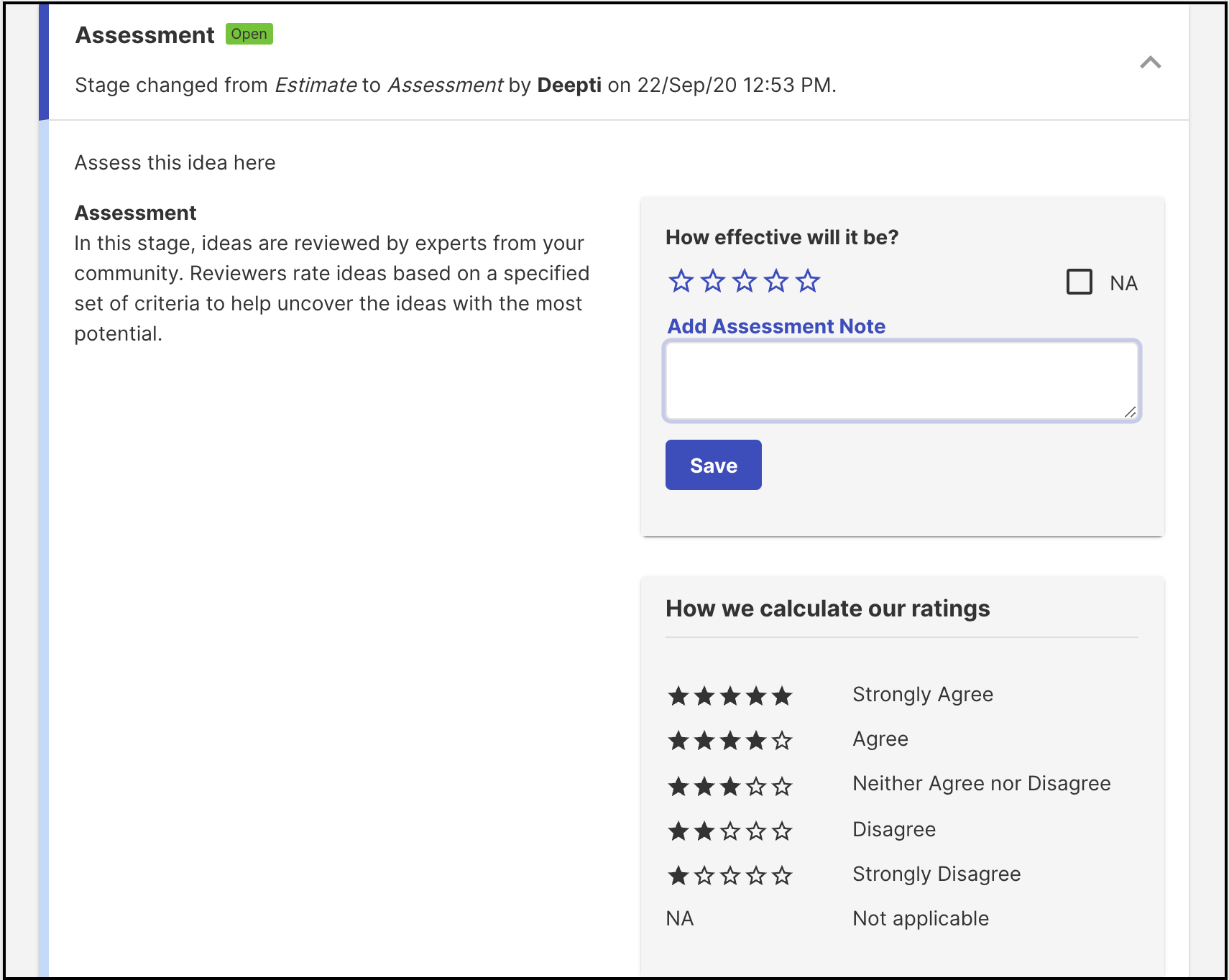 The assessor can see his own ratings and assessment notes as well as other assessors' ratings (also depends on a privacy setting) on the idea detail page. Such ratings from each assessor are added and averaged to calculate the overall rating on that idea.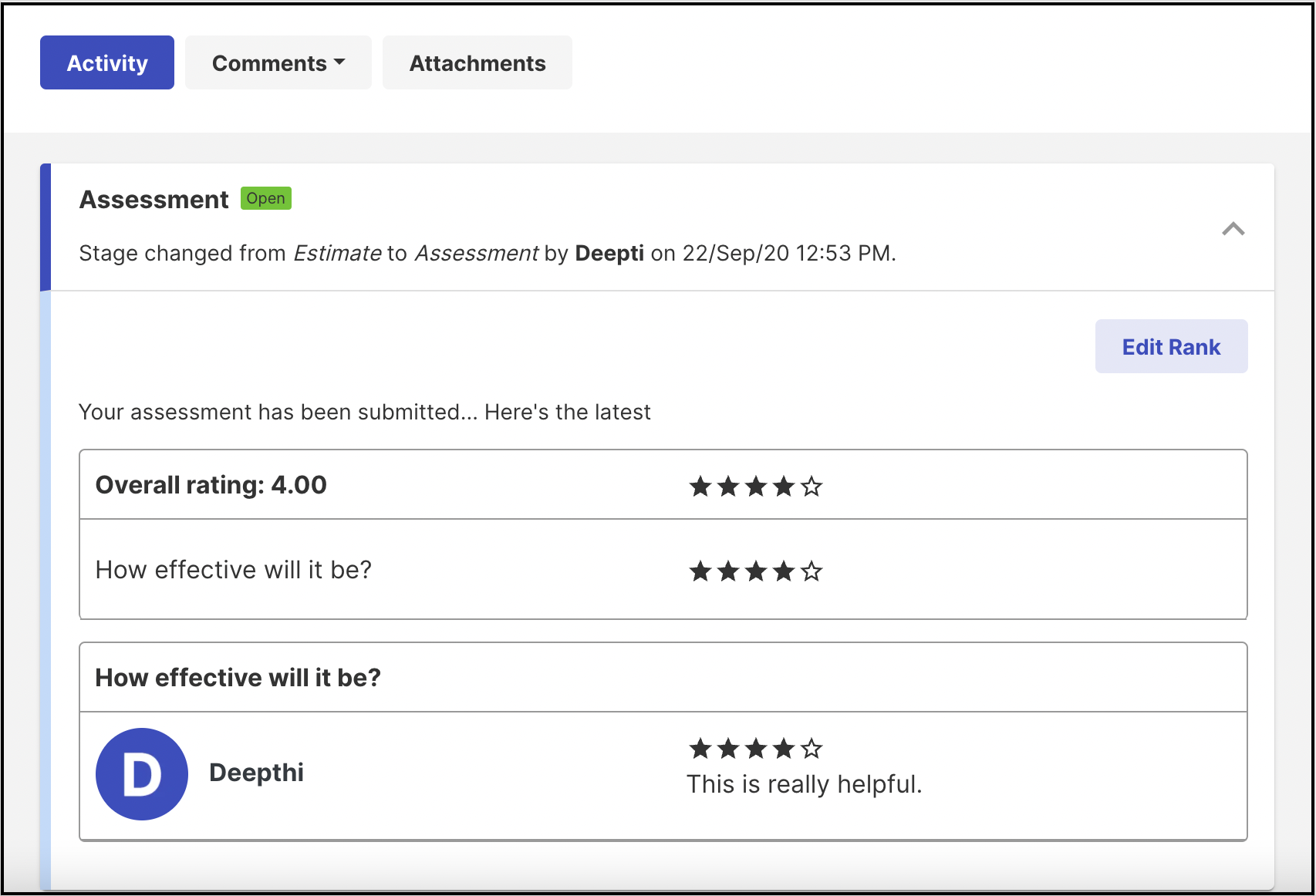 Non-participants will not be able to see the assessment rating /or overall ratings on the idea detail page if Private Assessment Submission is enabled. The members will see as Awaiting Assessments in the CTA block.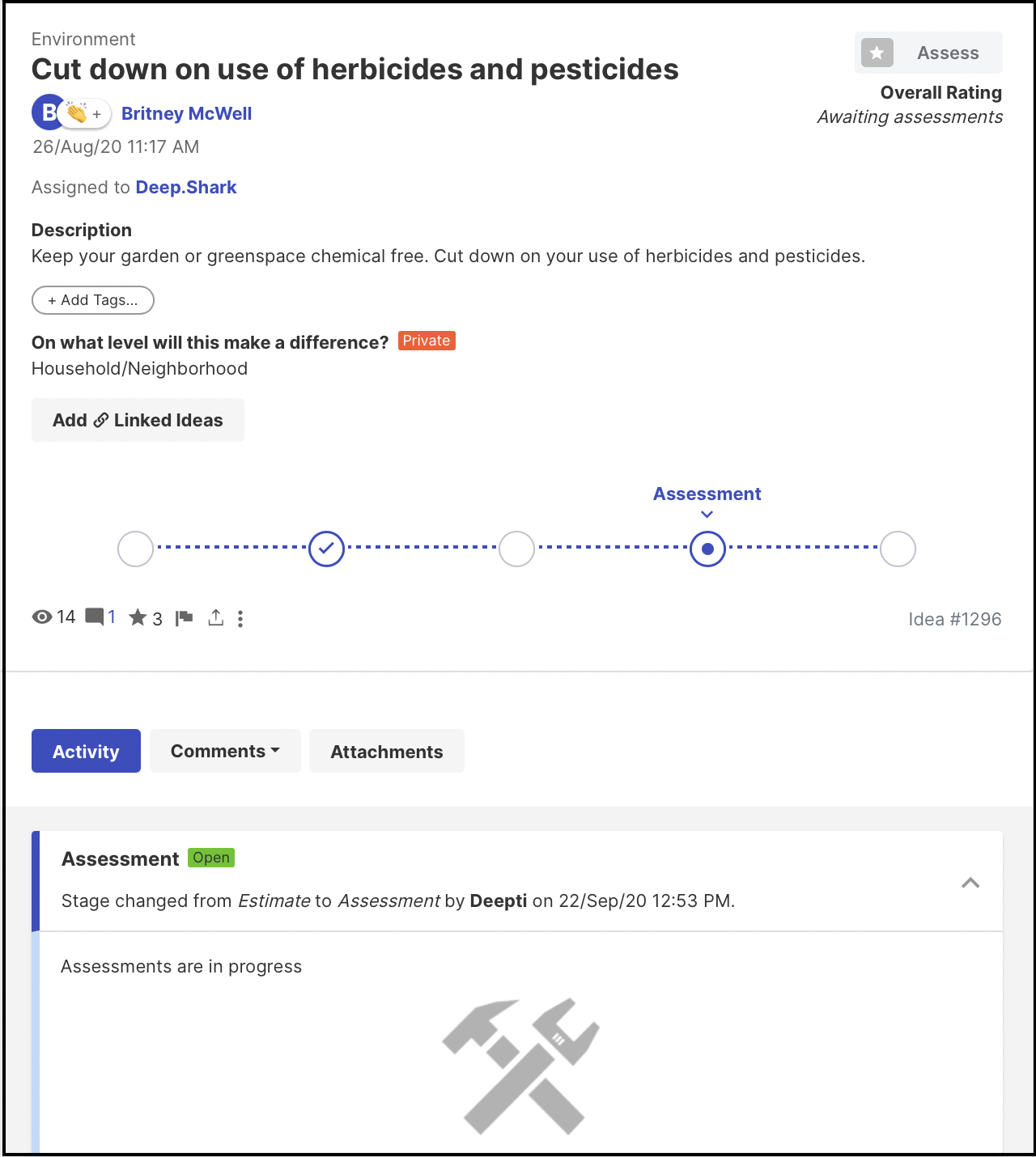 Assessments, Stats & Remind All non-assessed members
Administrator can access assessment results from Community Settings >> workflow >> Funnel Management>> Edit stage >> Click on 'Assessments' and Stats as in below screenshot.


Assessment details can be viewed with three tabs Assessments, Statistics, Excel.
The assessment Tab displays the comments and ratings for each idea given by each member.
The Statistics Tab displays the total number of ratings and the number of members who assessed the ideas.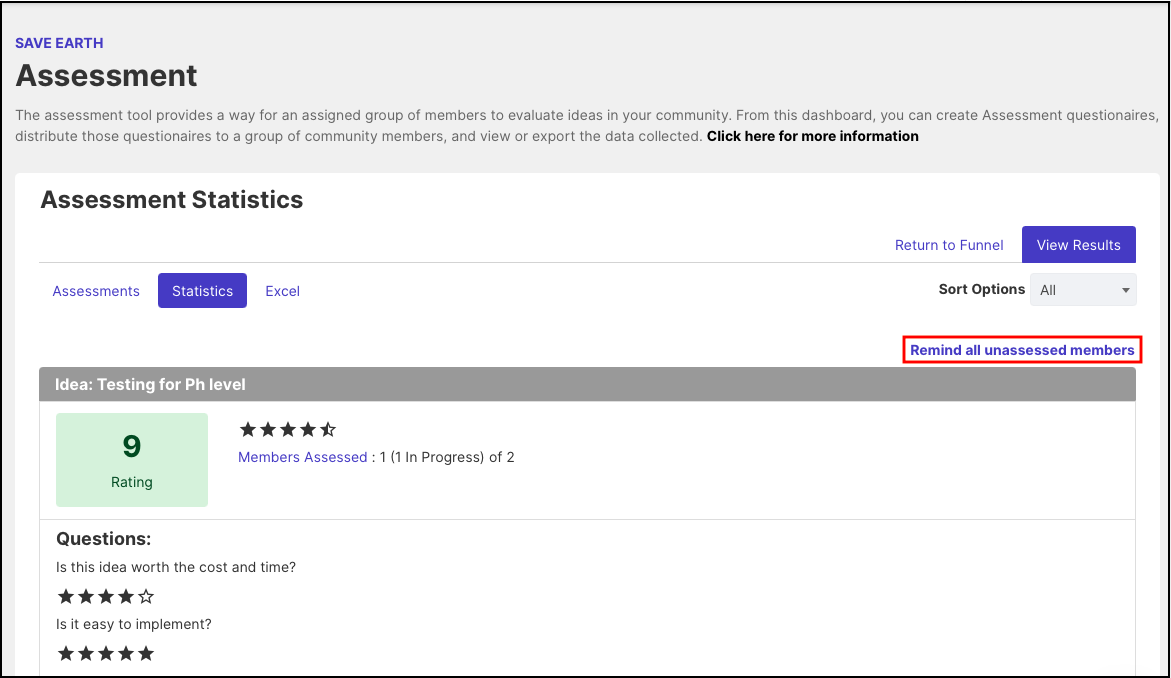 Remind all unassessed members link helps you to send a reminder to members who yet have to assess the ideas in the assessment stage.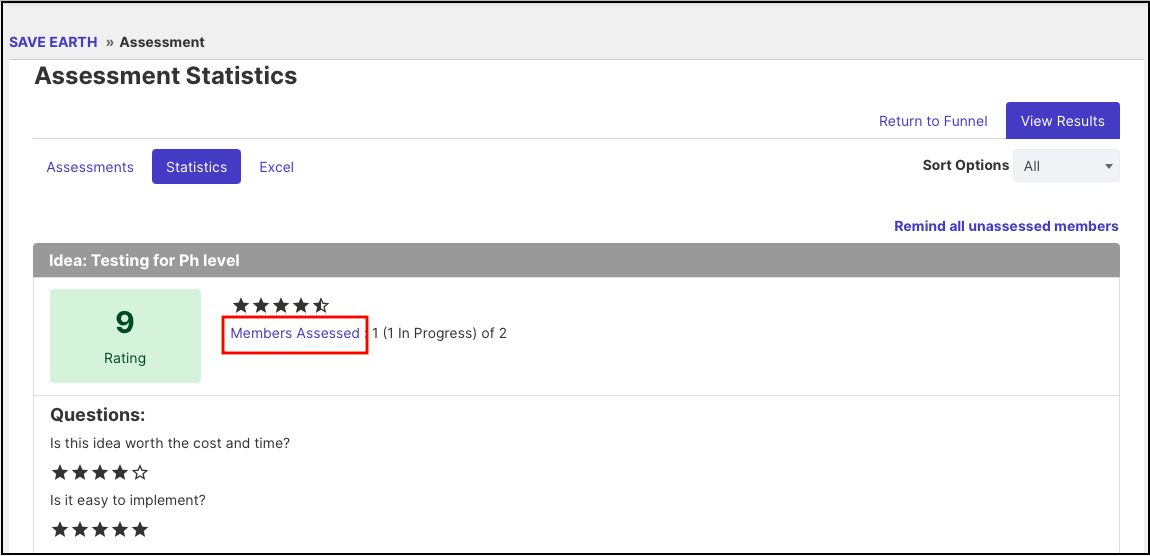 An email reminder can be sent to all non-assessed members by clicking on the 'Member Assessed' link appearing in blue on the idea stat. Admin will be taken to the 'Member Assessments' page where a list of assessed as well as non-assessed members will appear.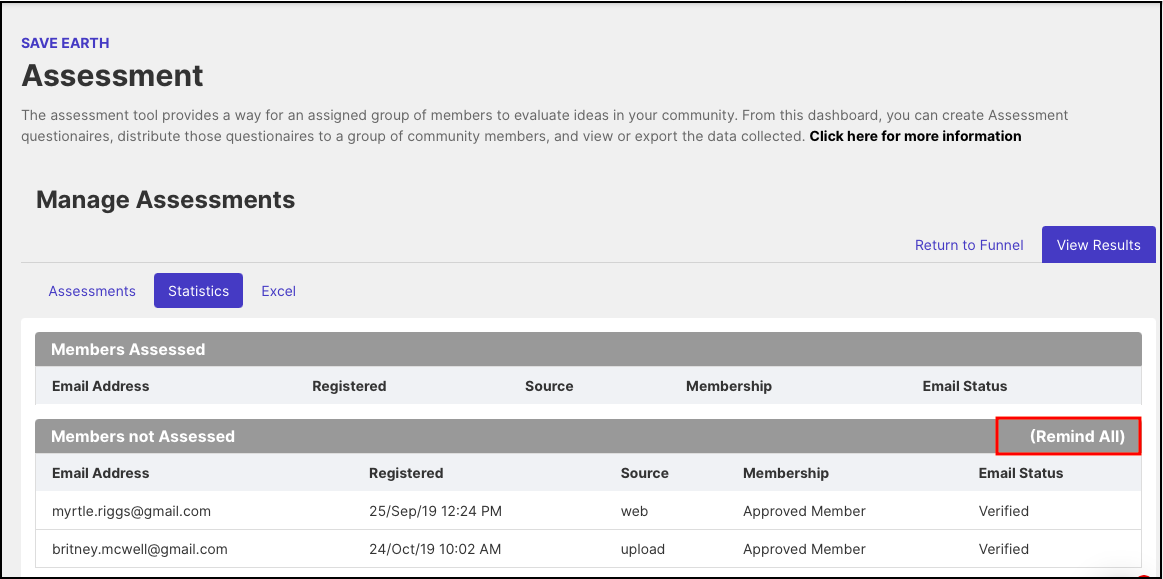 Clicking on the 'Remind All' link beside 'Members not Assessed' will send an email reminder to all the users who have not been assessed.
'Remind All' option will not be available if there are no ideas on the stage at that time. It'll just show the previous ideas' rating history.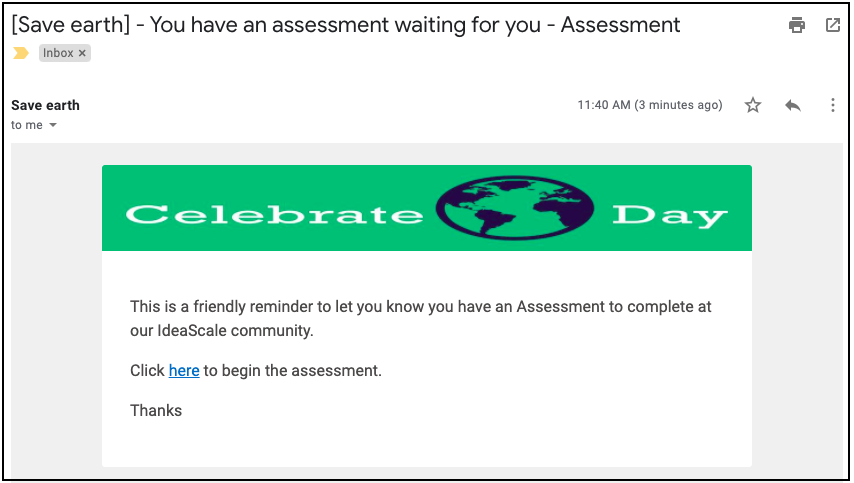 Assessment Result Excel export
Excel tab helps administrators to get the Assessment result containing all member responses, which can be exported to MS Excel format.

Export Assessment Details
This excel report contains 4 sheets named Assessment with workflow name, IdeaScale - Assessment Results, Stats, and Assessment.

Assessment with workflow name: It contains Stage Name, Stage Type, Idea ID, Idea Number, Idea Title, Idea Description, Idea custom fields, Idea Submitter Name, Idea Owner, Idea Campaign, Tags, Assessment Ratings, Assessment, Assessment Questions, Member name & Email.

IdeaScale - Assessment Results: This sheet contains Idea ID, Idea Title, Idea Description, Idea Submitter Name, Member ID, Stage Name, Idea Campaign, Assessment Rating, Assessment Question, Assessing Member ID, Assessing Member Name, Email and Date.


Stats: This sheet contains Idea Title, Idea Description, Idea URL, Total Rating, Member Assessed, Overall Rating, and Idea Number.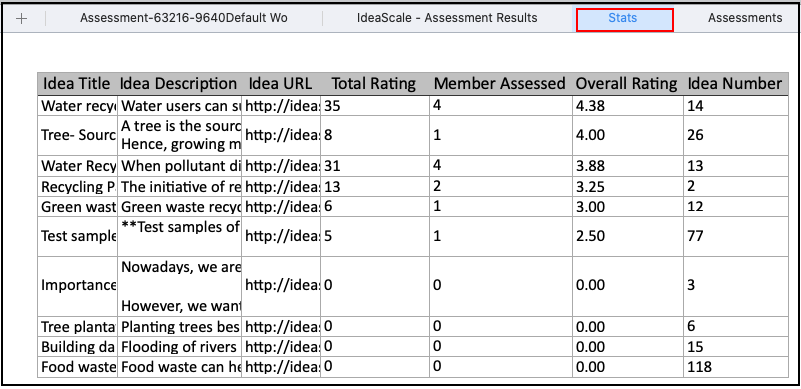 Assessment: This sheet contains Idea Title, Idea Description, Idea URL, Question, Average Rating, Assessor, Date, Assessment Note, Rating Given, and all the Group names in your community.

Export Non-Assessed Members
This excel report contains Idea Title, Idea Description, Idea URL, Total Invited Participant count, Member Not Participated count, and Non-Assessor email addresses.


Here is the link about the Assessment Stage rating calculation formula

Here is a short video of how to set up the Assessment stage: