Edit mode for admin in the profile dropdown
Ideascale is always thriving to make the user experience more comprehensible and adaptable. The latest feature called the Edit Mode for administrators of the community will now allow them to edit images, texts, descriptions and many other things right from the frontend. They would not be required to go to each specific settings to update.

Where can I find Edit mode?
Edit mode will be available from the Profile dropdown menu on the community landing page, home page and campaign page as shown in the above screenshot
Who would be able to use Edit mode?
The Global Administrators and the Custom Administrators (depending on the permissions they have). Edit Mode: Landing Page. Simply hitting the Edit mode button would make the editable sections available for editing. Uneditable sections would be greyed out.

Why use Edit Mode?
The inline editing can improve overall user experience by reducing the number of clicks and actions needed to make changes, making editing more intuitive and streamlined. By editing content in its original context, users can ensure that changes are made accurately and properly. This can help to reduce errors and improve the quality of content.
Edit mode is available for administrator only on the below frontend pages:
1. Community Landing Page
2. Home Page
3. Campaign Page
Edit Mode: Landing Page


Select and switch between Templates right on the page.
Landing Page versions can now be used more effectively - We added the ability to name each version and add a note explaining the changes that were made.
Landing Page versions can be saved for later use or published immediately.
Landing Page versions would also indicate who made changes and when. This also makes it easier to collaborate on content with various contributors.
Up to 20 versions of each template can be saved. Older or unused versions can now be deleted.
Use the new Preview button before publishing the landing page.
Edit Mode: Home Page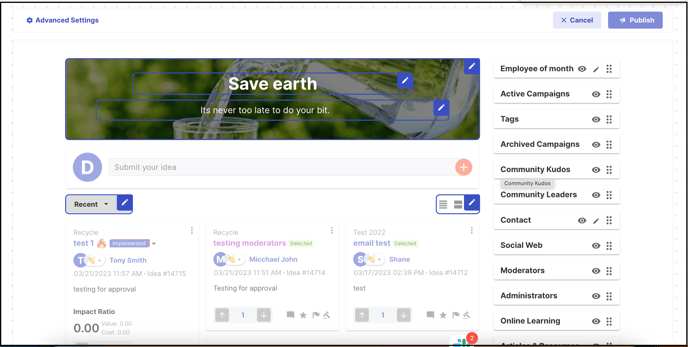 The below-mentioned Home page components would be editable using the edit mode.
Community tile image
Community Name
Community Subtitle
Idea Sort Order: Admins would be able to set/edit the default idea sorting order
Default View: Admins would be able to set/edit the default idea view
The Sidebar panel too would be editable with this same edit mode
Advanced settings: Allows editing Top bar logo, Banner Selection, Logo, and Custom Favicon.
Edit Mode: Campaign Page



The components that can be edited from all 4 campaign tabs are :
Campaign Logo
Campaign Name
Campaign Banner
The Campaign Sidebar Tiles (Only global Administrators would be able to edit the Sidebar)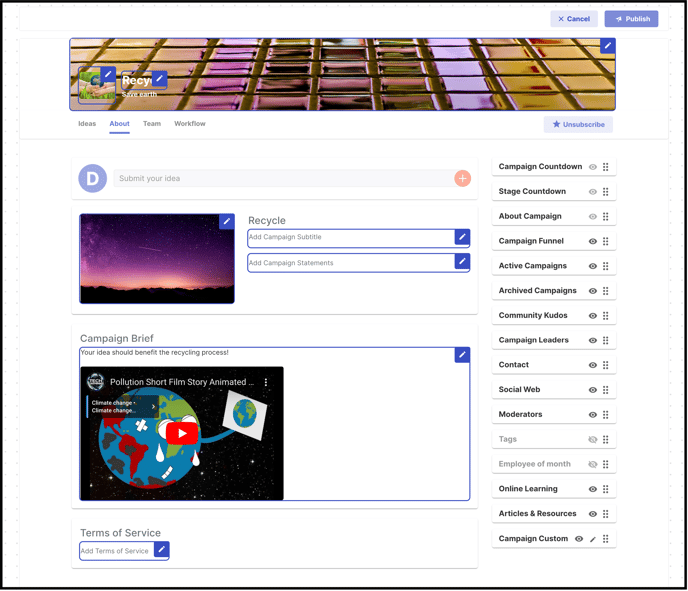 Apart from the above mentioned components, The About page will also allow adding and editing the following :
Campaign Subtitle
Campaign Featured Image
Question / Challenge Statement
Campaign Brief
TOS


Any Edits made using the Edit Mode will also be saved in the respective Campaign Settings too.