The decision to remove the listed features is made to enhance the platform's usability, performance, and user satisfaction, while also optimizing resource allocation and keeping up with evolving needs and market demands.
Random sort order - March 2023
We phased out the Sort by Random feature in March in order to promote user engagement within campaigns. We've replaced it with a fresh feature called 'Recommended.' Our NLP-supported Recommended Ideas has been rolled out to all clients, offering a unique list of ideas that our NLP predicts each member will be interested in. The recommendations are based on various in-app interactions such as idea views, linked ideas, idea tags, etc. All these elements will feed into the recommendation engine to generate a list of Recommended Ideas. Recommended ideas get updated weekly.
Thank you email - March 2023
After careful consideration and user feedback, we have decided to sunset the Thank you email communication.
We wanted to minimize redundant communication on our platform. By removing the Thank You email feature, we aim to enhance the user experience and reduce inbox clutter, ensuring a more positive interaction with our platform.
Smart Score - March 2023
The SmartScore feature was sunsetted due to some inefficiencies in its ability to quantify idea impact and potential, making it challenging for users to validate the accuracy of the scores.
Offtopic from the sidebar - March 2023
The option to filter off-topic ideas has been removed from the sidebar
This change was implemented to streamline the user interface and enhance the user experience by reducing clutter and improving the navigation.
"Off-topic" is a system label, and as such, the option to filter off-topic ideas is available in the same location as other labels.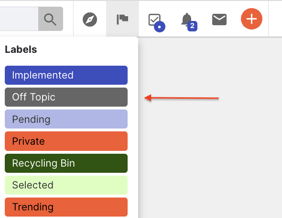 Special Kudos - March 2023
From user feedback, the Special Kudos feature was sunset. We hope that this change will increase meaningful interactions across our campaigns and platform as a whole through up/down votes, commenting, etc.
Yammer SSO and Yammer Integration - May 2023
Yammer Single Sign-On (SSO) and Yammer integration features will be removed from our product. This decision stems from inefficient functionality and decreased adoption across our platform.