Connecting Yammer With Ideascale
The Yammer Integration posts Ideas from your IdeaScale community to Yammer when they cross the specified Vote and Comment threshold (set by the Admin).

How to Install Yammer


Navigate to the App Directory
(Community Settings >> Integration >> App Directory >> Yammer)
and click Install under the Yammer App

Next, Yammer will open showing a similar message to the one below. Click 'Allow'

3. Once you login to Yammer, the Administrator is directed back to the IdeaScale Yammer screen with a message displaying "Application has been successfully installed".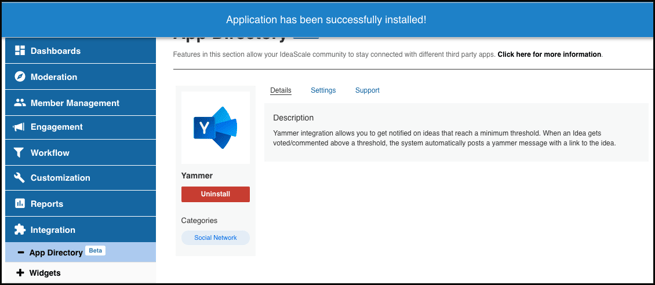 Yammer Settings

If you move to the settings link you would see a box where he can enter a test text to confirm the success of integration and continue with other settings.

Default Yammer Group: This drop-down contains the list of all Yammer groups to
which the Administrator belongs. Choose the desired group and make it the default group for the community, e.g. "All Company" as seen in the above screenshot. The ideas crossing the threshold would be posted to Yammer and would be selected group (All Company) only

Threshold Votes: Specify how many votes the idea should receive to be posted in Yammer. In the screenshot above once an Idea receives one vote it will post to Yammer.

Threshold Comments: Specify how many comments the idea should receive to be posted in Yammer.
Below is the screenshot of an idea that has crossed the specified threshold and is now posted to the Yammer group which is selected as default.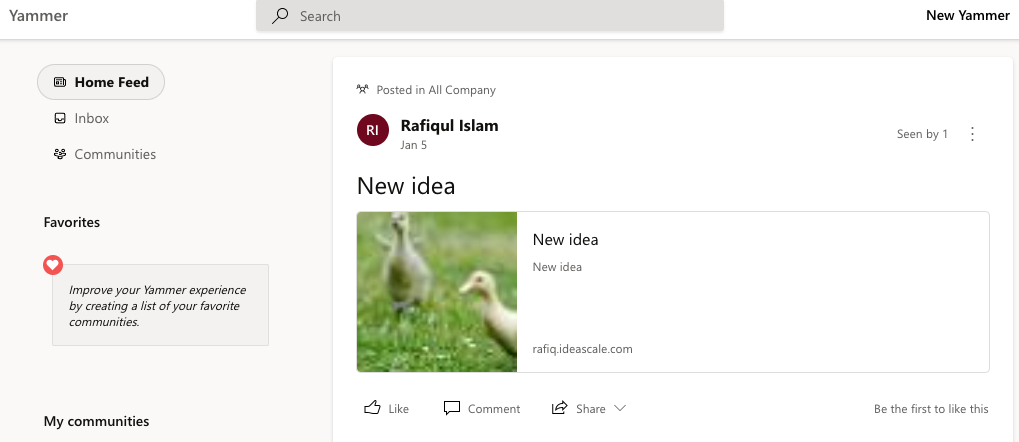 The Administrator can revoke the integration by simply setting Authorize IdeaScale to Connect to Your Yammer Account to OFF.